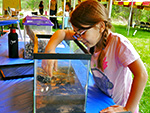 Bluebell Festival at Merrimac Farm on April 12!

Please join us to welcome spring and view the spectacular display of Virginia Bluebells that carpet the floodplain along Cedar Run for nearly a mile. Bring binoculars, cameras and the kids! Tours to the floodplain led by local natualists depart every 20 minutes. Click here for the tour schedule and more information!

White-tailed Deer: Suburban Habitats, Ecological Impacts, and Management Tools
White-tailed Deer are beautiful native animals that adapt readily to human landscapes. Beginning in the 1970s, researchers began to document the impacts that excessive deer browse can have on natural areas. Click here to read more and click HERE for information on the March 23 White-tailed Deer Symposium

Join us on Saturday, March 21, to plant native plants and help transform the area behind the Stone House into a diverse habitat for birds, butterflies, frogs and more is looking good! We also have a series of work days scheduled this spring. Help us keep up the good work! Click HERE to read more and watch the two-minute video from our MLK Day of Service at Merrimac Farm.
Buffer Restoration on Minnieville Road by K9 Gunner Memorial Dog Park

Help us keep up the good work! We'll be planting native plants as part of the final phase of this project on Saturday, March 28. We could sure use your help. Last October, volunteers planted more than 100 shrubs and wildflowers which should look wonderful when spring arrives. Together we're transforming the slope adjacent to the dog park, having fun, and improving stormwater runoff problems.
Read more...
Nokesville Christmas Bird Count

The count was Sunday, December 28. Nearly 40 people identified 93 species, a high count for the Nokesville CBC. We will publish the full results when they're finalized. The Christmas Bird Count, led by the National Audubon Society, is the oldest and largest citizen science event in existence. The Nokesville survey area covers a diverse landscape covering the transition from coastal plain to piedmont ecosystems. Read more...
Public Sewer and the Rural Crescent


On Wednesday, June 18, 7:00pm at McCoart Government Center, the Planning Commission will consider whether to authorize an extension of a sewer line to serve 5 undeveloped lots in the Rural Area. Can we trust the Planning Department and the Planning Commission to implement the sewer policy in the Comprehensive Plan and preserve the Rural Area? Keep reading...
Occoquan Sub-watershed Study

The Occoquan Sub-watershed study assessed stream conditions, identified stormwater problem areas and prioritized restoration needs. Watershed Mgt. will present their findings from the Occoquan Sub-watershed Study at tomorrow's BOS meeting, 2pm at McCoart Government Center. Read more...
Rural Crescent - Looking to the Future

In April 2014, the Planning Office presented the Rural Crescent Study results to the Board of Supervisors. According to the report, public input revealed a strong consensus on the importance of maintaining a rural area in Prince William County. PWCA hosted a community forum on this in March. Click
HERE to read more and watch the video...

April 26 2014 -- Virginia has a new governor and a new Secretary of Transportation - but the pressure to build the Bi-County Parkway continues. Gov. McAuliffe has announced that he still likes the concept of building the road. Read more...
Waterfall Road Proposed for Virginia Scenic Byway Designation


On Thursday, April 3, Lynn Crump, Environmental Planner with the Dept. of Conservation & Recreation shared info about Virginia Scenic Byways... road corridors with scenic, historic, natural, recreational or other intrinsic qualities. More than 2,500 miles of roads are designated as Virginia Byways now, including many miles in adjacent Fauquier County. Read more...

You can help create an urban home for birds, bees and butterflies by adding some plants that wildlife prefers to your backyard. If your neighbors follow suit, you have the start of a pollinator pathway! Read more...
More topics:

Northern Virginia Nature Guide
Find out who's living nearby...

Volunteer - Wildlife Garden Work Days
beginning April 21... view the schedule here and read more about this great project here.

Volunteer Native Plant Planting
Saturday, March 21 beginning at 9:00am. Read more...
Archeology and Historic Sites of Interest in Prince William County
Thursday, March 19, 7:30pm, Read more...

Volunteer! Bluebird Monitor Training
Sunday, March 29 beginning at 2:00pm

Oh Deer! Strategies for White tail Deer Management
Monday, March 23, beginning at 9:15. Read more...

Volunteer Tree Planting at the K9 Gunner Dog Park Buffer

Saturday, March 28 beginning at 10:00am. Read more...
A Virtual Tour of Virginia American Water's Clean Water Farm
Thursday, April 2 beginning at 7:30pm Read more...

Bird Walks at Merrimac Farm WMA
Sunday, On the last Sunday of every month
.
Read more...

Wildlife Garden Workdays at Merrimac Farm
Leave the world a little better than you found it. Click here to read more...


Eco-Park: Environment, Energy and Education
Thursday, June 4 at 7:30pm, tour Saturday, June 6 at 10:00am. Click here to read more...


Bluebird Trails at Merrimac Farm & Chinn Park

After 40 years of public ownership with no public access... Read more...