Take a Hike - Occoquan Reservoir Shoreline
Join us on Saturday, April 19, at 9:00 a.m. for a four mile hike on the southern side of the Occoquan River! Although we will encounter some sidewalks, most of this hike will be on natural surface tails. There are some hills to climb, stream crossings, areas than could be a little muddy and lots of beautiful scenery! For more information and to RSVP, contact us at alliance@pwconserve.org or call 703.499.4954. Click here to read more about this hike and here to read about previous Occoquan Trail hikes.
Volunteers Needed for Bluebird Trail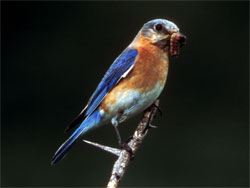 Bluebirds are a dramatic environmental success story. In the past, habitat losses, pesticides and competition from introduced species resulted in loss of suitable nesting sites and decreased populations of Bluebirds.

A few folks who remembered the Bluebirds took direct action and provided nest boxes. The word spread and lots of people began to put out nest boxes and brought Bluebirds back to our region and beyond.

You can help keep Bluebirds common and make a real difference in maintaining biodiversity. The newly established Bluebird trail on Merrimac farm needs volunteer monitors.

We hope you can help with this important project! No previous experience is required. A training session is scheduled for Sunday, May 4, from 3:00 to 4:30 p.m. Contact us at alliance@pwconserve.org or 703.499.4954 for more information and to RSVP. Read more...
Merrimac Farm Volunteer Work Day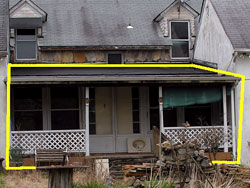 We want to open the Stone House for community programs and hope you can help us make this happen! The Stone House is structurally sound but the back porch is a different story. This porch is in such rough shape that it simply needs to come down. The steps are crumbling, the roof is sagging and its connections to the Stone House are tenuous at best. Contact us at alliance@pwconserve.org or 703.499.4954 for more information and to RSVP. Read more...
A Virginia Conservation Partnership
Nearly 200 people met at Merrimac Farm on April 10, 2008 to celebrate the acquisition of this unique property for public use. It was a beautiful day, the sun was shining and everyone was smiling! Now, as we close the door on the first stage of the project to conserve Merrimac Farm and begin efforts to open the Stone House and provide nature programs, we are looking forward to working with citizens, organizations and others who want to help make good things happen at Merrimac Farm! Read more...
At the April 8 Board meeting, Supervisor Stirrup motioned for Silver Lake to be conveyed to the Prince William Park Authority. Supervisor Nohe motioned in support of the Bull Run Mountain Conservancy. Both motions failed by a 5-3 vote. It's deju vu all over again and everyone is still wondering... which would you choose? 500 acres of parkland open to the public at no cost to taxpayers OR 230 acres of parkland open to the public at an initial investment of $1.6 million + $215,000 additional tax dollars each year. Silver Lake has been closed to the public since December 2006, wh en Toll B ros. transfered the land to Prince William County. Will the Board default to another "Public Land Keep Out" sign at Silver Lake to match the one at Dove's Landing ??? Read more...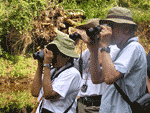 You may or may not be happy with the recent decisions of the Board of County Supervisors regarding planning for parks, open space, and trails, but the relevant chapter in the Comprehensive Plan will not be revised for another five years. What matters now is how county officials implement the action strategies in that planning document. Read more...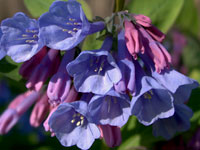 Virginia bluebells are one of the prettiest and most popular wildflowers in Northern Virginia. Beginning in mid-April, bluebells light up riverbanks and announce that spring is here. Rich floodplain soils provide prime habitat for Virginia bluebells. At Merrimac Farm, one of the largest colonies of Virginia Bluebells in Northern Virginia carpet the floodplain along nearly one mile of Cedar Run, presenting a spectacular display of blue every year in mid-April. Read more...