Tour Merrimac Farm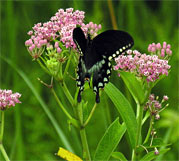 WHEN: Sunday, June 22, 1:00 to 3:00 p.m.
WHERE: Meet at the Stone House at the very end of Deepwood Lane
Join us to celebrate the official beginning of summer! The tour begins at the Stone House, then meander down to the floodplain. We'll be taking a special look at plant communities in both upland areas and along Cedar Run, as well as the birds and other wildlife that frequent these habitats.

Plan for an easy 1.5 mile walk on established paths and open woods. Preferred attire includes sturdy shoes, long pants, long socks and a hat. Bring your binoculars, camera and some water to drink.

Free of charge and open to the public. No RSVP required, email us at alliance@pwconserve.org or call 703.499.4954 if you have questions. Read more...
Lane Use, Transportation and Prince William County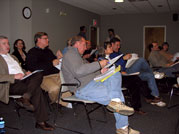 Every five years, the County reviews and updates the Comprehensive Plan, the key document intended to shape future development in the county. For the 2008 update, Supervisors appointed two separate committees to propose changes to the Transportation and Land Use Chapters.

Except for one all-day joint session, the Land Use Advisory Committee and the Mobility Committee developed their chapters separately. The recommendations in each chapter reference the same "smart growth" principles, but the chapters have significantly different approaches on where to encourage new development.

The Mobility Committee used the County's build-out analysis to identify the projected population increase through the year 2030. The committee then recommended that the county encourage new development to accommodate that growth at transit-oriented densities, which the committee defined as 20 residential units per acre.

In contrast, the Land Use Advisory Committee "centers" could accommodate dramatically higher population growth than is predicted by 2030. The centers are scattered across the county, without any way to shape which areas will actually be developed. Read more...
Volunteer Needed for Bluebird Trail!
We still have one opening for volunteer monitors at the Merrimac Farm Bluebird Trail! So far two boxes have been adopted by Eastern Bluebirds, with five eggs laid in each. On May 18 we found that all ten eggs had hatched and tiny bluebirds were snuggled safely inside the nesting boxes. These babies have now left the nest and the boxes are open for the next round...
You can help keep Bluebirds common and make a real difference in maintaining biodiversity. No previous experience is required. Training will be provided as part of a regular monitoring session, several dates are available.

Please contact us at alliance@pwconserve.org or 703.499.4954 for more information.