Saving Our Streams
When: Thursday, November 6 at 7:30 pm
Where: Bull Run Unitarian Church, 9350 Main Street, Manassas

Tom Dombrowski - PWC Public Works watershed restoration specialist - will talk about some innovative projects & successes rehabilitating stream corridors in Prince William County. Presentation followed by a community discussion. Bring your questions and share your views! Read more...
Birding the Route 234 Wetland Bank
When: Saturday, October 25 and Saturday, November 1 from 7:00 to 11:00 a.m.

Where: Route 234 Wetland Bank, click here for directions

Questions & RSVP to alliance@pwconserve.org, 703.499.4954.

Please join us for a field trip to the VDOT Route 234 wetland bank, a seldom visited natural area in our own backyard, led by NoVA birding enthusiast Kurt Gaskill. After two trips, the bird list is up to 72 species and there's more to be added in the coming months. This site is normally closed to the public. Read more...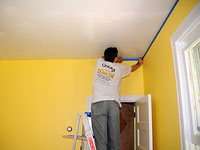 The Last Days of Painting at Merrimac Farm
When: Sunday, October 19 from 9:00 a.m. to 4:00 p.m. and Sunday, October 26 from 1:00 to 4:00 p.m.

Where: Stone House at Merrimac Farm, 15020 Deepwood Lane, Nokesville, directions
About half of the Stone House is painted and it's really looking good. We'd like to complete the rest in short order and hope you can help! All repairs to the walls are completed, this should be a straight-up painting job. Extra supplies are always a plus. No RSVP is required, but we appreciate knowing if you plan to attend. Contact us at alliance@pwconserve.org or 703.499.4954. Read more...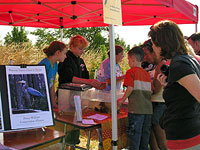 Fall Festival at the Occoquan Bay Refuge
PWCA Table The Fall Festival at the Occoquan Bay Refuge was last weekend and we had a terrific time. The weather was beautiful and there was lots to do.
The Audubon Society of NoVA, NoVA Bird Club and Virginia Native Plant Society led wildlife and wildflower tours. PWCA was there with an assortment of frogs, turtles & aquatic insects for people to meet. The VA Dept. of Game & Inland Fisheries had an great display on mammals, complete with scat replicas. PWCA also continued planting vegetation around the small pond off the parking lot. Read more...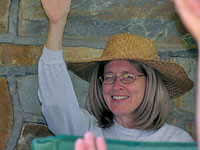 PW Wildflower Society Visits Merrimac Farm
The Prince William Wildflower Society met at Merrimac Farm on October 4 for their annual meeting. We were glad to see old friends and meet new friends, and had a wonderful time.

The event closed with a tour of the floodplain and downstream area along Cedar Run, where PWWS members added nearly 40 species to the Merrimac Farm Preliminary Plant List! Click here to read more about plants at Merrimac Farm.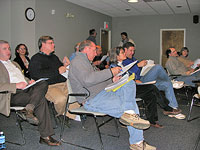 Comprehesive Plan Update... Continued
Planning Commission Work Session
October 15, 2008 at 6 PM
McCoart Building, Potomac Conference Room
Planning Commission Public Hearing & Vote
December 3 at 7:00 p.m.
McCoart Building, Board Chambers
On October 8 the Planning Commission postponed their decision on the Transportation and Land Use chapters but left the public hearing open. Commissioners requested additional statistics, including a comparison of the estimated demand for additional housing units v. potential development that would be allowed through the 25 proposed "centers." As the Planning staff produces some of the data requested by the members of the Planning Commission after the citizens finished speaking last night, we may find some interesting numbers.

Citizens, organizations, developers and businesses can comment on the proposal by emailing Commissioners, writing letters to the editor, speaking at Citizen's Time and at the continued public hearing. Click here to read more... click here to share your views on our blog.