PWCA
703.499.4954
alliance@
pwconserve.org
IN THIS ISSUE
Leave the world a better place.
Stream Stewards - Clean Water Issues Close to Home
Volunteer - Work Days at Merrimac Farm
Master Naturalists - New Session Begins May 10
Wildlife Walk at Merrimac Farm

A free & easy way to support PWCA!
Shop through our store on Amazon.com and a % of your purchases comes back to our non-profit to benefit our programs!

Bluebell Festival
April 15!
Read more...

Sometimes, if you stand on the bottom rail of a bridge and lean over to watch the river slipping slowly away beneath you, you will suddenly know everything there is to be known.
~A. A. Milne
March is for Comprehensive Plan Amendments in Prince William
Every year developers have the opportunity to propose changes to the Prince William County Comprehensive Plan, which establishes land use policy and recommends development densities County wide.
This year developers filed six applications requesting changes for specific properties. All propose to replace commercial development with houses.
For the third time since 2006, Classic Lakes LLC is asking to remove acres from the Rural Crescent for properties located between Bristow Road and Rte 234 Bypass. Residential densities for the 316-acre site proposed for development would increase from 31 to 102 new homes.
Planning staff's overview of the applications is online HERE. Before the end of the month, likely at the March 20 meeting, Supervisors will vote to initiate or pass over each proposal.
Proposals that are initiated begin the development process and will be considered for rezoning at a later date. Those passed over are gone.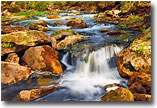 A series of eight workshops created for concerned citizens interested in acting to protect clean water resources from Prince William to the Chesapeake Bay
Whether you live right next to a stream or miles away, your actions can help improve water quality.
PWCA's Stream Stewards provides you with information and ideas to help improve your community, protect our public drinking water supply and ensure a sustainable future for our children.
Stream Stewards pairs evening lectures with field tours to illustrate key concepts at familiar locations close to home. Topics cover the biology, dynamics and physical characteristics of streams, and consider the role local waterways play in ongoing efforts to save the Chesapeake Bay.
Information on all eight programs in this series is online HERE. Attend one or all programs to find out more about clean water issues from Prince William to the Chesapeake Bay! Attend seven activities to receive PWCA's Stream Stewards Certificate
Volunteer - Work Days at Merrimac Farm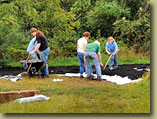 Do you have a little time for a good deed? We could sure use your help creating a wildlife hotspot behind the Stone House at Merrimac Farm! For all work days, bring a smile and a shovel.
When: 9:00 to Noon on March 10, March 24, March 31
Where: Merrimac Farm, 15020 Deepwood Lane, Nokesville, directions
RSVP appreciated: alliance @pwconserve.org, 702-499-4954
March 10 and 24 - Tasks include a second sweep to remove invasives, installing rain barrels and lay tubing for overflow, remove old gutter on house and replace with new, cut grass, place stepping stones around water feature, spread compost.
March 31 - Tasks include laying stone around the perimeter of the Stone House, mulching the garden path, continue planting, spread compost.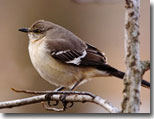 When: Sunday, March 25... on the last Sunday of every month, beginning at 8:00 am
Where: Merrimac Farm, Stone House Visitor Center, 15020 Deepwood Lane
We'll look for birds, butterflies and other wildlife as we travel through fields and forests to the edge of the floodplain. Everyone is welcome. Dress for the weather, bring binoculars and cameras. More info and RSVP (not required) to PWCA , 703.499.4954 or alliance@pwconserve.org.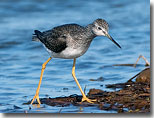 Stream Stewards Series
When: Sunday, March 25, 1:00–4:00 pm
Where: Meet at Hylbrook Park, 2440 Prince William Pkwy,Woodbridge
Led by Clay Morris, Environmental Engineer with Prince William County Watershed Management, this field program highlights two streams in developed areas, both high priority restoration candidates, and considers restoration needs associated with the Chesapeake Bay clean up.
Both streams we will visit are great examples showing the challenges and opportunities for Prince William County to help save the Bay, protect public infrastructure, and improve local water quality for Prince William residents.
Master Naturalists at Merrimac Farm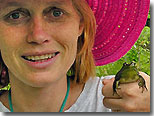 Registration is now open for Merrimac Farm Master Naturalists! New session begins May 10.
Master Naturalists are people who want to make a difference by helping maintain the quality of our natural areas and local ecosystems. This program is a fun way to learn more about local wildlife and meet new friends.

Participants receive more than 50 hours of training, including classes and field trips covering amphibians, birds, plants, wetlands and more.
An additional eight hours of education and 40 hours of volunteer service is required for certification each year (opportunities provided).
No previous experience is needed. The most important qualification is a desire to learn more about wildlife habitats and contribute to your local environment through volunteer service.
For more information, including the class schedule and how to apply, check online HERE.
Registration is open until the class maximum of 12 participants is reached. Questions? Call 703-499-4954 or email naturalist@pwconserve.org.