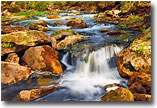 A series of eight workshops created for everyone interested in acting to protect clean water resources from Northern Virginia to the Chesapeake Bay
Whether you live right next to a stream or miles away, your actions can help improve water quality. PWCA's Stream Stewards provides you with information and ideas to help improve your community, protect our public drinking water supply and ensure a sustainable future for our children.
Stream Stewards pairs evening lectures with field tours to illustrate key concepts at familiar locations close to home. Topics cover the biology, dynamics and physical characteristics of streams, and consider the role local waterways play in ongoing efforts to save the Chesapeake Bay.
Attend one or all programs to find out more about streams, wildlife and clean water from Prince William County to the Chesapeake Bay! Attend seven activities and receive PWCA's Stream Stewards Certificate.
Questions & RSVP (Appreciated): alliance@pwconserve.org or 703.499.4954. All programs are free of charge thanks to the support of our members.
One Stream at a Time Tour
with Clay Morris
Sunday, March 25, 1:00–4:00 pm
Meet at Hylbrook Park, 2440 Prince William Pkwy,Woodbridge, directions
Following opening remarks from Supervisor Mike May, this field trip highlights two streams in developed areas, both high priority restoration candidates, and considers restoration needs associated with the Chesapeake Bay clean up. Both streams are great examples showing the challenges and opportunities for PWC to help save the Bay, protect public infrastructure, and improve local water quality for Prince William residents.
Intermittent Stream Ecology
with Jake Hosen
Thursday, April 5, 7:30–9:00 pm
Bull Run Unitarian Church, 9350 Main Street, Manassas, directions
An overview of the ecology, hydrology, and social importance of non-perennial streams, which are streams that do not flow year-round. Subjects of the presentation include the organisms found in non-perennial streams and the unique adaptations they use to survive in streams that routinely go dry. Periodic wetting and drying also influences the ability of a system to retain nutrients, such as nitrogen and phosphorus, potentially preventing these nutrients from entering the Chesapeake Bay where excess amounts of these nutrients cause harmful algal blooms.
Intermittent Stream Tour
with Jake Hosen
Saturday, April 7, 9:00–Noon pm
Meet at Merrimac Farm, 15020 Deepwood Lane, Nokesville, directions
Extending information presented on April 5, this field tour focuses on the ecology, hydrology, and social importance of non-perennial streams, which are streams that do not flow year-round. We'll check streams for organisms generally found in non-perennial streams and discuss the unique adaptations that they use to survive in streams that routinely go dry.
Neighborhood Streams Tour
with Cliff Fairweather
Saturday, April 28, 10:00 am–Noon
Cloverdale Park, 15150 Cloverdale Road, Dale City
Streams and the land around them provide vital habitat for a wide variety of life – from tiny aquatic insects to large floodplain trees. We'll explore the life in and along a stretch of Neabsco Creek to understand how stream ecosystems function and how they are affected by human activities.
Stream Restoration
with Tom Dombrowski
Thursday, July 5, 7:30–9:00 pm
Bull Run Unitarian Church, 9350 Main Street, Manassas, directions
Stable streams that meander through wooded areas in and near neighborhoods help create attractive communities, and provide important habitat to various flora and fauna. However, a stable stream is hard to find in developed areas and restoration/stabilization efforts can be complicated.
Stream restoration can be expensive and often may take years before the benefits are visible. PWC has completed several significant restorations and more are planned. How are streams selected for restoration? What are the goals? Participants will learn about the basic concepts and techniques of stream restoration projects, including criteria for selecting restoration sites and evaluating goal success.
Stream Restoration tour
with Tom Dombrowski
Saturday, July 7 9:00 am–Noon
Andrew Leitch Park, 5301 Dale Boulevard, Woodbridge
Following up on Tom Dombrowski's presentation on the County's stream restoration process and goals, we'll visit a stream restoration site where we will examine and discuss the restoration technique and determine the success of the project based on the established project goals.
Characteristics of a Healthy Stream
with Chris Ruck
Thursday, Sept. 6, 7:30–9:00 pm
What is a pristine stream? Is there any such thing? In this session, participants will learn the characteristics of healthy streams and explore the link between stream health and the watershed. This session will integrate the hydrology, geology, chemistry, and biology of stream corridors into a watershed-based approach to stream health.
Healthy Stream Tour
with Chris Ruck
Saturday, Sept. 8 at Prince William Forest Park
Extending information presented on Sept. 6, participants will gather physical, chemical and biological data to assess the stream quality at Prince William Forest Park, which is over 95% forested and considered to be one of the few "undisturbed" watersheds in Northern Virginia.