IN THIS ISSUE
Virginia's Ecosystems: An Introduction to Our Natural Heritage
Bluebird Trail Volunteer Training - Merrimac Farm and Chinn Park
Work Days - Conservation Landscape at Merrimac Farm
Merrimac Farm Master Naturalists
Prince William Conservation Alliance
703-499-4954
pwconserve.org
The sun was warm but the wind was chill. You know how it is with an April day.
~Robert Frost, Two Tramps in Mud Time


2012 Bluebell Festival at Merrimac Farm
by Terry Reardon
Ernie Sears made a great 4-minute video about the fun time everyone had at the Bluebell Festival, it's online HERE.
April 15, 2012 --This year's annual Bluebell Festival at Merrimac Farm (and my first) turned out to be a great experience even though the famous bluebells were past their peak due to the unseasonably warm weather.
As such, there was a greater focus on wildlife and history. Several hundred participants, including many families with children, arrived in a steady stream throughout the day.
Once greeters mentioned that Alvin the albino corn snake was available for petting, the children made a direct beeline for his enclosure. "I got to hold him. He's cool!" said 7-year-old Jason.
PWCA provided a live animal display of aquatic and other critters, including a five-lined skink, some very fat bullfrog tadpoles, cricket frogs and a very friendly and active box turtle that mesmerized the children.
Co-sponsor, Virginia Dept. of Game & Inland Fisheries had a popular display of animal pelts and skulls.
There were hikes for photographers, hikes to discover the best places to find birds and butterflies, and hikes to identify native plants – in other words, something for everyone!
Click HERE to read the whole article.

A free & easy way to support PWCA!

Shop through
our store
on Amazon.com and a % of your purchases comes back to our non-profit to benefit our programs!
Neighborhood Streams Tour with Cliff Fairweather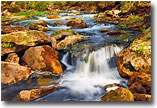 When: Saturday, April 28, 10:00 am–Noon
Where: Cloverdale Park, 15150 Cloverdale Road, Dale City
Streams and the land around them provide vital habitat for a wide variety of life – from tiny aquatic insects to large floodplain trees. Led by Cliff Fairweather, Long Branch Nature Center, we'll explore the life in and along a stretch of Neabsco Creek to understand how stream ecosystems function and how they are affected by human activities.
This program is part of PWCA's Stream Stewards, more information is online HERE.
Virginia's Ecosystems: An Introduction to Our Natural Heritage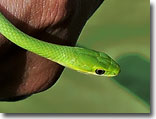 When: Thursday, May 3, 7:30-9:00pm
Where: Bull Run Unitarian Church, 9350 Main Street, Manassas
1st Thursday Speaker Series with Charles Smith, Fairfax County Park Authority Natural Resource Manager and Prince William Wildflower Society
Naturalist Charles Smith will share images describing varied ecosystems in Virginia. The state is home to over 120 vegetative communities composed on unique plants and their associated soils and animals. Join us as we discuss the many species and the challenges of managing them for ecosystem health.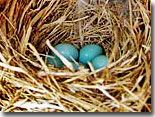 When: May 5, from 10:00 to 11:30 am
Where: Merrimac Farm Stone House Visitor Center, 15020 Deepwood Lane, directions
Thanks to the many people who install and tend nesting boxes, Bluebird populations are growing. You can help and have a great time too!
Responsibilities include working with other volunteers to check the nesting boxes each week and gather data about what's happening at each box. We hope you can help with this important project.
Click HERE to read more about the Bluebird Trail at Chinn Park and HERE to read more about Merrimac Farm.
If you'd like to help but cannot attend this training, contact us about additional training opportunities.
For more information and to register, email alliance@pwconserve.org or call 703.499.4954.
Work Days - Conservation Landscape at Merrimac Farm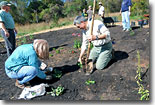 When:
Sat, May 5, 9:00am to Noon
Sun, May 20, 2:00 to 5:00pm
Sat, June 9, 9:00am to Noon
Where: Merrimac Farm Stone House Visitor Center, 15020 Deepwood Lane, directions
We're using native plants to expand natural areas and create new habitats. Our plan reduces non-native grasses, enhances vertical structure and increases the variety of food sources to welcome a wider variety of wildlife.
We sure could use your help! Workday tasks include planting, weeding, mulching and removing invasive plants that try to sneak their way back.
For all work days, bring a smile and a shovel. Wheelbarrows and gardening tools are also useful. We appreciate your help!
Click HERE for for more information about this project.
RSVP appreciated: alliance @pwconserve.org, 702-499-4954
Merrimac Farm Master Naturalists New Session Begins May 10... There's Still Time to Register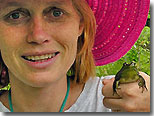 This program provides more than 50 hours of classes about wildlife, plants and local natural areas. It's a great way to learn more about nature close to home, meet new friends and connect with local stewardship activities.
Class topics include Botany, Mammal Skull Identification, Herps, Suburban Ecology and more. The full list is online HERE.
There is a $200/participant fee which covers all classes. For more information, contact Kim at 703.499.4954, naturalist@pwconserve.org.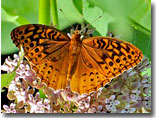 When: Sunday, April 29... on the last Sunday of every month, beginning at 8:00 am
Where: Merrimac Farm Stone House Visitor Center, 15020 Deepwood Lane, directions
We'll look for birds and other wildlife, especially butterflies and dragonflies, as we travel through the uplands to the edge of the floodplain, covering a variety of habitats, including open fields and woodland edges. Everyone is welcome. Dress for the weather, bring binoculars and cameras. More info and RSVP (not required) to PWCA , 703.499.4954 or alliance(at)pwconserve.org.