IN THIS ISSUE
Ocean Frontiers - PWCA 1st Thursday Speaker Series
Community Meeting - New highway planned for PW, Loudoun
Prince William Conservation Alliance
703-499-4954
pwconserve.org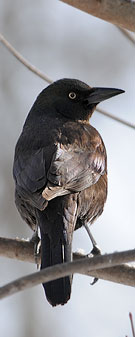 From December to March, there are for many of us three gardens: the garden outdoors,
the garden of pots and bowls in the house,
and the garden of the mind's eye."
~Katherine S. White


A free & easy way to support PWCA!

Shop through
our store
on Amazon.com and a % of your purchases comes back to our non-profit to benefit stewardship programs.


Save the Date!
The 2013 Bluebell Festival is on Sunday, April 7!

View photos taken by wildlife watchers at Merrimac Farm WMA, online
here
.
Join the group and add your photos!
Discover Nature
Close to Home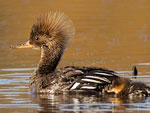 Hooded Merganser
The Hooded Merganser is a small duck that has a crest at the back of the head which can be expanded or contracted. The crest of adult male has a large white patch.
Their breeding habitat is swamps and wooded ponds on the northern half of the United States or southern Canada.
Hooded Merganser's prefer to nest in tree cavities near water but will use Wood Duck nesting boxes if available and unoccupied.

These ducks feed by diving and swimming under water to collect small fish, crustaceans and aquatic insects.
Hooded Mergansers are short distance migrants. They winter in the United States wherever winter temperatures allow for ice-free ponds, lakes and rivers.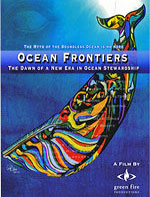 When: Thursday, Feb 7, from 7:30 to 9:00 pm
Where: Bull Run Unitarian Church, 9350 Main Street, Manassas
It's MOVIE NIGHT for February's First Thursday program. Munch on some popcorn as Prince William Conservation Alliance premieres a new film from Green Fire Productions called Ocean Frontiers, the Dawn of a New Era in Ocean Stewardship.
All too often, conservation is blamed as a job killer with onerous environmental regulations. This film reveals how people from seemingly disparate walks of life–Iowa farmers, shipping executives, fisherman, marine biologists, energy explorers, and others–work cooperatively to find a solution to enhance their economic situations as well as protect the environment.
Please join us for a stimulating film and prepare to engage in a lively discussion afterward! Popcorn is provided.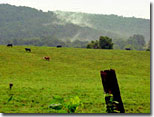 When: Monday, Feb 11
6:30pm Open House with maps and other materials available for review
7:20pm Presentations followed by Q&A Discussion
Where: John Champe High School, 41535 Sacred Mountain St, Aldie
VDOT has prioritized plans to build a new "Outer Beltway" — an expensive road project that would cut through Loudoun and Prince William. The planned alignment is generally along Pageland Lane and Sanders Lane in Prince William, connecting to Northstar in Loudoun with a spur to Dulles Airport.
How does this affect you, your property and your community? Get the big picture and make your voice heard!
Sponsored by Piedmont Environmental Council, Prince William Conservation Alliance and Aldie Heritage Association.
When: Sun, Feb 24 from 2:00 to 4:00 pm
Where: Merrimac Farm Stone House, 15020 Deepwood Lane, Nokesville, directions
Workday tasks include planting, weeding, mulching and removing invasive plants. For all work days, bring a smile and a shovel. Wheelbarrows and gardening tools are also useful. We appreciate your help!
Bring the family, there's plenty to do for everyone. We have some tools... if you have supplies to share, we appreciate the extras. Cleaning supplies, shovels and clippers are helpful.
This four-season greenscape of native plants creates a high quality area for families to watch wildlife in a public area that is easy to access… and demonstrates how any suburban or rural yard can be transformed from sterile to fruitful land, where adults and children alike can delight in nature.
Habitat losses are the primary threat to wildlife nationwide. Be part of the effort to reverse this trend – volunteer, don't stand on the sidelines!
When: Sunday, Feb 24, 8:00 am
Where: Meet at the Stone House at Merrimac Farm, 15020 Deepwood Lane, Nokesville, directions
Please join us for our regularly scheduled (last Sunday of the month) bird walk at Merrimac Farm. We travel through the uplands to the edge of the floodplain, covering a variety of habitats including open fields and woodland edges. Everyone is welcome. Dress for the weather, bring binoculars and cameras. More info and RSVP (appreciated) to PWCA , 703.499.4954 or alliance@pwconserve.org.
Graveyard in the Woods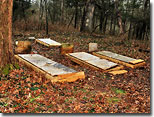 by Jeff Irwin
Stories of ancient Indian settlement, colonization and frontier communities, slavery and war, early industry and intensive farming permeate our local history, but the past is sometimes hard to see for the present.
At Merrimac Farm Wildlife Management Area, one rich story could be easily overlooked, were it not for the survival and rebirth of a little graveyard in the woods.
The cemetery at Merrimac Farm was all but forgotten until 2003, when a county-funded project to record hundreds of historic cemeteries led to a visit by a local man named Ron Turner. Turner was guided by the property owner to a small spot in the woods where graves were known to exist though none were clearly visible.
In a subsequent visit a few headstones bearing the surname French were found just below the duff layer of soil.Three massive marble tablet style markers, all broken, were lying flat and buried, oriented at odd angles, clearly misplaced from their original rows. Dates indicated graves from before the Civil War.
Since those early visits many changes have occurred at and around the cemetery. Today, with professional volunteer archaeological support, new stones have been unearthed from their shallow periwinkle and thin soil blanket.
Five graves have been clearly defined, including William French, his wife Martha, and their daughters Elizabeth, Susan and Maria, their deaths ranging from 1823-1854. Read the full article here...