IN THIS ISSUE
Volunteer of the Month: Jim Gallagher
First Thursday - Drinking Water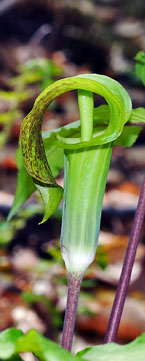 A free & easy way to support PWCA!
Enter Amazon.com through PWCA's "store" HERE and Amazon donates a % of your purchases to benefit local stewardship programs!
Prince William Conservation Alliance
703-499-4954
pwconserve.org

The Wildlife Garden at Merrimac Farm is creating a four-season greenscape of native plants and a high quality area for families to watch wildlife in a public area that is easy to access.
Every little bit helps. It's amazing how much you can do when you choose to give a little bit of that natural habitat back.
~Roxanne Paul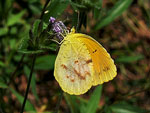 Sleepy Orange Butterfly
A sulphur with bright orange and black markings, with a distinguishing black spot on the forewing.
The underside of the wing varies seasonally from bright greenish-yellow in summer to a duller brown in winter.
The host plants for this species are members of the pea family.
This species has a wide range, and may be found in a variety of habitats. Look for Sleepy Orange butterflies in fields and roadsides, woodlands and stream edges.
Like many similar species, Sleepy Oranges may be found congregating around mud puddles and damp areas.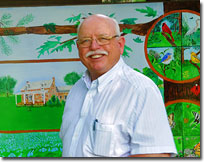 PWCA is proud to announce Jim Gallagher as our Volunteer of the Month for April 2013, recognizing his outstanding contributions to nature and the arts, and efforts to share his talents with all.
Jim had wanted to take art lessons ever since art class in high school. Years later, when he was a couple of years away from retirement, Jim started taking drawing classes at Northern Virginia Community College and discovered he not only had a passion but also a talent.
This is abundantly evident in the mural and rainbarrels that he has painted for the PWCA. Jim's mural, partially shown in the photo, is on display at the kiosk at the Merrimac Farm Stone House, where it provides a preview of commonly seen native flora and fauna.
Jim's hand-painted rain barrels are raffled off at the Bluebell Festival at Merrimac Farm every year, adding a unique feature to the lucky winners home and helping raise funds for local stewardship programs. Thank you, Jim, for all you have done and continue to do for PWCA!
How NoVA Solved It's Drinking (Water) Problem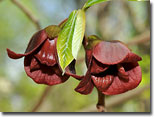 1st Thursday Speaker Series
When: Thursday, May 2, 7:30-9:00pm
Where: Bull Run Unitarian Church, 9350 Main Street, Manassas
Speaker: Charlie Grymes, Chair, PWCA
As NOVA has suburbanized/urbanized, our drinking water wells were contaminated and our reservoirs, such as Lake Barcroft, were unable to provide enough water to meet the needs of new residents.
Partially-treated sewage triggered massive growth of bacteria/algae in Occoquan Reservoir, causing it to literally stink. Intermittent droughts left communities high and dry, most recently in 2005. Competition between uncooperative cities and counties triggered water wars.
The good news: we fixed it. There's a story or two in that journey from "eek, firefighters report there's not enough water" to "chill, we're set for decades to come."
First Thursday talks are designed for people with an interest in the topic. You do not need to have any scientific background - come and learn, and get dangerously smart over time.
Bluebird Monitors Needed at Chinn Park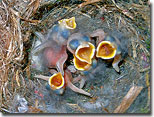 When: Sunday, April 28, 4:00pm
Where: Chinn Park Library Parking Lot
Questions? Call Kim Hosen at 703-499-4954 or email alliance@pwconserve.org.
Responsibilities for volunteer monitors include working with other volunteers to check the nesting boxes, make sure all is well and record information about what is happening along the trail. No previous experience is needed.
Bluebirds are a dramatic environmental success story. Thanks to the many people who install and tend nesting boxes, Bluebird populations are growing once again. You can help! Please contact us at 703.499.4954 or alliance@pwconserve.org if you have questions.
Citizen Science Survey - Butterflies, Dragonflies & Other Cool Insects
When: Thursday,May 9 at 3:30pm
Where: Merrimac Farm Stone House, 15020 Deepwood Lane
RSVP Appreciated to 703.499.4954 or alliance@pwconserve.org
We're taking a closer look at butterflies, dragonflies and other cool insects at Merrimac Farm. Please join us for a pleasant walk through upland areas to look for insects and help build our wildlife information for this great natural area!
Everyone is welcome, no previous experience required.
When: Sunday, April 28... on the last Sunday of every month, beginning at 8:00 am.
Where: Merrimac Farm, Stone House Visitor Center, 15020 Deepwood Lane
We'll look for birds and other wildlife as we travel through the uplands to the edge of the floodplain, covering a variety of habitats including open fields and woodland edges.
Everyone is welcome. Dress for the weather, bring binoculars and cameras. More info and RSVP (appreciated not required) to PWCA , 703.499.4954 or alliance(at)pwconserve.org.