IN THIS ISSUE
Supervisors Consider the Bi-County Parkway on Tuesday
Better for Drinking Water, Better for the Bay

Gardener's Gold
Prince William Soil & Water Conservation District markets FREE composted horse manure to horseless citizens for use in their landscaping/gardening... a win-win program for horse owners and gardeners alike!
Click here for more info and the list of participating farms.
But before you head out with your wheelbarrow... what is compost?
Simply put, composting is a decomposition process where large amounts of organic matter can be reduced in a relatively short time to a pile of black, crumbly humus, an ideal soil conditioner that adds large amounts of nutrients to the soil.
Compost added to soil improves the structure of soil and also helps retain water.
Questions? Contact Prince William Soil & Water Conservation District, 703.379.7514, pwswcd@pwswcd.org.
Bi-County Parkway in the News
Virginia doesn't need this road to nowhere
James Rich, Washington Post Opinions; May 17 2013
In February, the Virginia General Assembly voted to significantly raise taxes for transportation. It didn't do this to see the money wasted. That's why you saw six leading Republican state legislators hold a news conference at the Manassas Civil War battlefield recently to protest the McDonnell administration's proposal to spend more than $1 billion on the so-called North-South Corridor — better known as the Tri-County Parkway or "Western Bypass" — which many of us see as an unnecessary Outer Beltway.
Myths and Realities
PWCA; May 2013
More information about 13 Bi-County Parkway Myths.
In traffic congestion, D.C.'s No. 1
Washington Post; February 5 2013
The D.C. area has the nation's worst traffic, according to a study that tracks time and fuel commuters lose in traffic delays.

A free & easy way to support PWCA!
Enter Amazon.com through PWCA's "store" HERE and Amazon donates a % of your purchases to benefit local stewardship programs!
Prince William Conservation Alliance
703-499-4954
pwconserve.org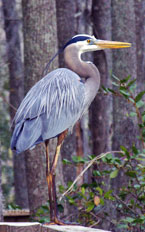 Great Blue Heron
The largest heron in North America, the Great Blue Heron is also one of our most adaptable and widespread birds.
With a six-foot wingspan, they look huge in flight. They hold their necks in an S-shape when taking off from a perch.
Look for them wading through wetlands, flooded meadows, along pond edges and shorelines… anywhere there's water.
Great Blue Herons nest in large colonies, where their bulky stick nests and raucous calls dominate the forest canopy.
With more than 1,400 nests, the Great Blue heron rookery at Mason Neck National Wildlife Refuge is the largest in the Mid-Atlantic region.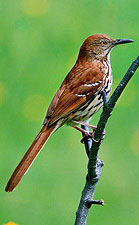 Parks, Trails and Open Space are Smart Investments that increase property values, create stable neighborhoods and produce economic opportunities.
According to Comprehensive Plan Goals, PWC wants to protect 39% of County lands as open space.
According to the Planning Dept., approximately 25% of the County is currently protected as Open Space.
We have a long way to go. Keep reading...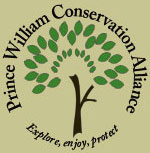 Open House!
Welcome to Our New Office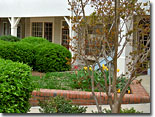 When: May 30, 4:00 to 7:30pm
Where: 2241-F Tackett's Mill Drive, lower level near the lake.
We are excited to announce our new office space, thanks to the generosity of Tackett's Mill Center.
We hope you can join us on to celebrate! We'll have food and drink, news about current issues and upcoming events. Don't be a stranger.... bring a friend and stop by for a fun after-work get together.
This event is free of charge, everyone is welcome. Visit anytime between 4:00 and 7:30pm.
Bi-County Parkway
(also known as the Tri-County Parkway, Northern Extension to Rte 234, Outer Beltway)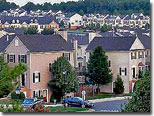 Prince William County Supervisors are poised to request construction of the Bi-County Parkway at their May 21 meeting with their vote on Item 10-C, which establishes the County's project list for VDOT and NoVA Transportation Authority.
Local decision makers have a chance to back up smart growth rhetoric with action at their May 21 meeting.
Will they direct public investments to areas targeted for growth, east Prince William including the Rte 1 corridor, encouraging economic development?
Or will PWC support a billion dollar road that adds infrastructure to low-density areas, such as the Rural Crescent, encouraging more sprawl development, a primary source of traffic congestion?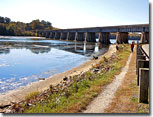 Speaker: Tom Dombrowski, Wetland and Stream Specialist with PWC Watershed Mgt. Dept.
When: Thurs, June 6, 7:30pm
Where: Bull Run Unitarian Universalists, 9350 Main St., Manassas
The shoreline of Prince William County is an important interface between land and water. The type of shoreline can have dramatic effects on habitat, living resources and human experiences.
But along the shoreline of Prince William County many landowners have "hardened" their shorelines with bulkheads, seawalls, and stones in attempts to control shoreline erosion.
However these hardened structures can actually increase the rate of coastal erosion. Alternatives are available that use a natural living shoreline approach that will both control erosion and improve aquatic habitat.
Please join us for a presentation and discussion about Living Shorelines and project at Leesylvania State Park.
Living Shorelines Walk
When: Saturday, June 8 at 10:00am
Where: Leesylvania State Park (main parking lot), Woodbridge 22191. Entrance fee is $3/vehicle.
Join us at Leesylvania State Park to see for yourself the challenges and potential benefits associated with re-creating Living Shorelines.
Leader Tom Dombrowski will talk about the County's ongoing project to restore Potomac River shoreline to create wildlife habitat and prevent erosion.
View the current condition of the Potomac River shoreline and consider the benefits of restoration investments to wildlife and people.
Better for Drinking Water, Better for the Bay
Northern Virginia faces obvious environmental challenges. Some, such as polluted air, are being addressed through Federal mandates to protect human health.
Others, such as climate change and efforts to save the Chesapeake Bay, require changing "business as usual" substantially and will be difficult to solve.
The good news is that the region has demonstrated that it can solve such challenges.
We have a reliable supply of high-quality drinking water because different jurisdictions – Alexandria, Falls Church, the city and county of Fairfax, Manassas, Loudoun, and others - planned ahead and then acted on those plans. They invested in reservoirs, treatment plants, and other infrastructure to meet projected population changes.
Over time, duplicative systems based on city/county rivalries has been replaced by regional cooperation, demonstrated most recently by the end of a series of water wars in Fairfax.
Most significantly, multiple jurisdictions have coordinated system operations to reduce the need for dams that would have required massive amounts of money and damaged free-flowing river segments.
An unexpected uprising of environmentally-conscious citizens blocked the simplistic solution proposed in the 1960's by the Corps of Engineers to provide drinking water and dilute pollution.
The Corp's first proposal for 16 dams on the Potomac River and its tributaries, then reduced to a "six pack" of dams, was rejected. Instead of transforming rivers into slackwater lakes to dilute perpetual pollution, we required industries and urban areas to build wastewater treatment plants.
The Occoquan Reservoir became an international example of how sewage can be recycled into drinking water. There have been zigs and zags in the process to provide reliable drinking water to an expanding population. Groundwater was been polluted by surface runoff, and the wells that once supplied Manassas are now unusable.
New "purple pipe" systems to recycle treated wastewater may be too expensive to justify – but the story of drinking water demonstrates that success is possible when the region cooperates on environmental issues.
Birders Anonymous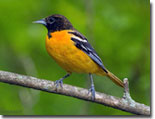 By Harry Glasgow, photo by Julia Flanagan
A dozen or so people sat in a circle in a stark, barren room. I stood up and said, "Hello, my name is Harry, and I'm a birder." The group chorused back, "Hello, Harry," and thus another meeting of Birders Anonymous begins.
A look around the group showed a fairly equal number of men and women, youngish and oldish, executives and mechanics, and assorted styles of dress. Just your average group of Northern Virginians.
But, on closer examination, we discover that this isn't your usual meeting of a "12-step" addiction program. These people aren't trying to quit birding - they're conferring to find the best sites to find Warblers, or Shorebirds, or Raptors.
Birding - or bird watching - is one of the fastest growing American pastimes. In the 20th century most of the birding activity in North America was done on the east coast. The publication of Roger Tory Peterson's field guide in 1934 led to the initial increase in birding. Binoculars became more easily available after World War II, which made this easier.
The practice of traveling long distances to see rare bird species was aided by the rising popularity of cars. About 4% of North Americans were interested in birding In the 1970s and in the mid-1980s at least 11% were found to watch birds at least 20 days of the year. An estimate of 61 million birders was made in the late 1980s.
A great deal of money is spent on this activity by Americans every year. According to a U.S. Fish and Wildlife Service study, birdwatchers contributed with $36 billion to the US economy 2006, and one fifth (20%) of all Americans are identified as birdwatchers. North American birders were estimated to have spent as much as $32 billion in 2001.
The Prince William Conservation Alliance offers opportunities every month for people to investigate this fascinating leisure interest at the Merrimac Farm Wildlife Management Area in Nokesville. The area is open every day for this and other natural activities as well. Additionally, there are many other opportunities to become a "Bird Bum" in our area. We will be happy to direct you to any of the many sites just in Prince William County alone. Happy Birding!
Occoquan Hiking Trail
When Lake Ridge developments were originally planned, a trail connecting communities with the Occoquan Reservoir was largely not considered.
However, as things turn out, a hiking trail from McCoart Government Center to the Town of Occoquan is not only still possible but was close to becoming a reality.
The majority of the trail runs through land owned by Lake Ridge Parke & Rec Association (LRPRA). The LRPRA held a referendum to assess residents views, which showed strong support for the trail.
Because much of the trail is privately (HOA) owned, support from Prince William County government is needed to allow access to the public.
To date, PWC County has agreed to hold an easement along the trail corridor, removing liability from LRPRA. Supervisors have also approved an $800,000 investment to manage the trails.
Everything was moving in the right direction when, in a Special Meeting held on April 29, the LRPRA Board of Directors passed a motion to cease discussion on leasing common ground to the PWC Park Dept. for the purpose of creating a McCoart to Occoquan Trail.
The Occoquan Trail has been discussed since 2007, when PWCA addressed the LRPRA Board and sponsored trial hikes. You can view the map showing out hike route here and a recap from the first hikes here.
Other groups, including the County's Trail Council and Prince William Trails & Streams, have since offered their support for this trail.
What happens next is far from certain. To learn more and meet trail supporters, the Occoquan Trail will be the main topic at the next Lake Ridge Occoquan Civic Assoc. meeting on Wednesday, June 12, 6:30pm at the Development Services Building.