IN THIS ISSUE
Little Things Make a Big Difference: Microbes & Streams
Farms, Buffers and Streams Walk

The Lizard is a timid thing
That cannot dance or fly or sing;
He hunts for bugs beneath the floor
And longs to be a dinosaur.

~A Child's Bestiary
Good Natured Book Group - Save the Date!
Join us for a fun discussion on Sunday, December 1, 3:00pm at PWCA's office, 2241-F Tackett's Mill Drive, lower level near the lake

A free & easy way to support PWCA!
Enter Amazon.com through PWCA's "store" HERE and Amazon donates a % of your purchases to benefit local stewardship programs!
More about the Christmas Bird Count
Now in its 114th year, the Christmas Bird Count (CBC) is the oldest and largest citizen science event in existence.
The National Audubon Society leads the effort, compiles data nationwide and makes the results available to all on their website here.
The information collected by citizen scientists provides a snapshot showing what birds were found on one particular winter day over many years.
The Nokesville count circle covers a diverse landscape at the edge of the Baltimore-Washington metropolitan area and captures the transition from coastal plain to piedmont ecosystems.
It extends from the Prince William County landfill on Route 234 to Nokesville Proper, and from the Lunga Reservoir near I-95 to Catlett in Fauquier County.
The Nokesville count circle includes portions of Prince William Forest Park, Manassas Airport and MCB Quantico.
Parkland areas include Merrimac Farm, Cedar Run Wetland Bank, Foggy Bottom Wetland Bank, Nokesville Park, Brentsville Courthouse, Bristoe Battlefield Park and Hellwig Park.
Little Things Make a Big Difference:
How microbes in streams have a big impact on our environment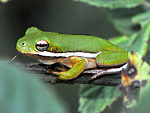 Please join us for a talk by Jake Hosen, PhD Candidate at the University of Maryland, on the importance of microbes to stream food webs and how the stream in your backyard is linked to global carbon cycles and climate change.
Why should you care about streams? Clean streams and healthy environments increase property values, protect our communities from pollution, flooding, erosion, and the effects of global climate change.
Why should you join us on Thursday evening? Because the more you know, the better we can protect streams and healthy communities.
Jake's talk is on organic carbon, the energy currency of ecosystems. Organic carbon compounds are important food sources for microbial communities in streams and provide an energy source that we can track all the way up the food chain... from microbes that initially consume the carbon to the macroinvertebrates that live in streams to birds like heron that eat fish out of these streams.
Stream microorganisms do more than just provide a source of food for animals in streams. They process nutrients and can even alter the form and structure of a stream.
Streams microbes and organic carbon also play a role in the global environmental cycles. While streams are indivdually quite small, they are quite numerous. This means that a lot of organic carbon moves through streams each year.
Where all of the carbon moving through streams ends up has important implications for climate change. Recent research has shown that human activities on the land can change how organic carbon is used in streams.
These changes have the potential to increase the amount of carbon that leaves streams as carbon dioxide, which could accelerate the effects of climate change.
Join us on Thursday night to learn how the microscopic world of streams has a big impact on the environment.
When: Saturday, November 9, 10:00am
Where: Meet at Merrimac Farm Wildlife Management Area NORTH Parking Lot, directions
Jay Yankey, Executive Director of Prince William Soil & Water Conservation District (PWSWCD)and local farmer, is leading a tour of farmland buffers in Nokesville.
Vegetated buffers are our last and best defense against water pollution. And, with over 30,000 acres of agricultural land in Prince William County, preventing sediment and nutrient runoff from farms from entering our local waterways is a very important issue.
PWSWCD works closely with many farmers in the county to see that adequate buffers are restored or maintained to help filter pollutants from adjacent crop and pasture land. These vegetated buffers also serve as important wildlife habitat.
On the tour we will see both grass and wooded buffers. We will observe buffers that have been established for more than ten years and compare those with some that have recently been completed.
Jay will talk also about how the Chesapeake Bay Preservation Act plays a role in the preservation and restoration of buffers, including discussion on incentive programs that are available to support landowners who are interested in restoring agricultural buffers.
Nokesville Christmas Bird Count 2013!

When: Sunday, December 29, beginning at 7:00 am
Where: Nokesville count area, which is centered on Merrimac Farm and covers nearly 180 sq. miles.
The Nokesville count circle includes Merrimac Farm Wildlife Management Area, Cedar Run and Foggy Bottom Wetland Banks, Nokesville Park, and the Prince William County landfill as well as portions of Prince William Forest Park, Marine Corps Base Quantico, and Fauquier County.
Be part of the action. There's three ways you can help:
Identify and count birds in the field, beginning birders welcome;

Identify and count birds in your backyard, if you live in the circle boundaries;

Prepare and/or serve food to cold, hungry birders at the Merrimac Stone House beginning at 11:00 am.
Register in Advance - Required to 703-499-4954 or alliance@pwconserve.org
For more than 100 years, citizen scientists throughout the United States have volunteered their time to count birds for the Christmas Bird Count, a national event led by the Audubon Society. Their efforts provide important information about wintering bird populations, distribution, and changes over time.
Volunteer birders (including beginners) join a team that covers a defined portion of the total count area. We meet midday and at dusk at Merrimac Farm to record the results. Read more about the Nokesville Christmas Bird Count here.