Wildlife of the Potomac River Refuges
A Seasonal Perspective with Randy Streufert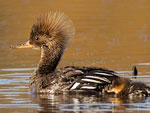 When: Thursday, February 6, 7:30pm
Where: Bull Run Unitarian Universalist Church, 9250 Main St., Manassas
Join us for a virtual trip through the seasons at Occoquan Bay and Mason Neck National Wildlife Refuges. Fabulous photos include Bald Eagles courtship and mating, a series of puffed up birds in winter and bird baths in summer. This interesting and funny presentation emphasizes wildlife behaviors and relationships, and personalities.
Speaker Randy Streufert has lived on Mason Neck for over 30 years. His pictures of wildlife in northern Virginia have been published numerous times in Virginia Wildlife and Birds and Blooms.

When: Tuesday, January 21, 7:00pm
Where: Development Services Building, Room 202, 5 County Complex 22192
Attend to find out more about the results of this study and recommendations for future restoration projects. The study area includes communities on both sides of Old Bridge Road, Minnieville Road, Tackett's Mill area and borders the Town of Occoquan.
Waterfall Road Proposed for Virginia Scenic Byway Designation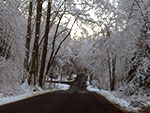 PUBLIC MEETING, hosted by Supervisor Peter Candland
Please attend and share your views!
When:January 22, 7:30 pm
Where: Evergreen Fire Station, 3510 James Madison Highway, Haymarket
Virginia's Scenic Byway program recognizes that scenic roads are key community assets. More than 2,500 miles of roads are designated as Virginia Byways now, including many miles in adjacent Fauquier County.
Protecting our scenic byways is an inexpensive and forward-looking way to highlight Prince William's unique assets, promote tourism, protect open space, and build a bright future for County residents.
Once a road is awarded the Scenic Byway designation, it is included on Virginia's Map of Scenic Roads, promoted on the Virginia Scenic Roads website, and included in the state's coordinated promotional tourism strategy.
The Scenic Byway designation limits signage along the road, ensures environmental review for federal/state funded projects, restricts road expansion and could favorably impact property values in the surrounding area. It does not limit road improvements or affect land use controls. Read more...
Rural Crescent Public Meeting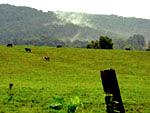 When: Thursday, January 23, 6:00-9 pm
Where: Development Services Building, Room 107, 5 County Complex, Woodbridge, VA
Planning Office staff and consultants will provide an overview of the project, share results from the public input to date, present information about rural preservation tools available to the County and seek additional input.
Click here to read more about Prince William County's Rural Crescent and ongoing study intended to evaluate the "effectiveness" of this smart growth planning tool.