Rural Crescent Community Forum: Looking to the Future

Thursday, March 6, 7:30pm at Bull Run UU Church, 9250 Main Street, Manassas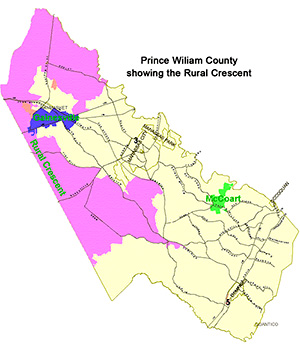 Are you tired of complaining about overcrowed schools, roads and parks? In 1998, Prince William Supervisors adopted a protected rural area, dubbed the Rural Crescent, to help solve these problems.
Fifteen years later, Supervisors are now studying how "effective" the Rural Crescent has been and reviewing rural preservation strategies.
How can the Rural Crescent promote farming, locally grown food and other agricultural uses? How would more houses in the Rural Crescent impact property taxes for everyone in the county, from Haymarket to Quantico? Can protected rural areas help spur redevelopment in targeted areas, such as Route 1?
On March 6, a panel of local experts will discuss these and other questions. Each speaker will have ten minutes for a brief presentation, followed by Q&A with the audience.
Earnie Porta, Mayor, Town of Occoquan, serves as Moderator. The speakers are:
Charlie Grymes, Chairman, Prince William Conservation Alliance

Chris Price, Director of Planning, Prince William County Planning Office

Stewart Schwartz, Executive Director, Coalition for Smarter Growth

Jay Yankey, Board of Directors, Prince William Farm Bureau; District Manager, PW Soil & Water Conservation District
Gainesville resident and PWCA Board Director Elena Schlossberg believes living in a community is about more than building roads and houses. "Now is the time to get involved", she says. "Upcoming decisions about the future of the Rural Crescent will influence the location of infrastructure investments from Haymarket to Quantico." Read more...