IN THIS ISSUE
Attracting Birds with Native Plants Talk
Volunteer - Wildlife Garden Planting Day
Rural Crescent Study Report - BOCS Presentation
Occoquan Watershed Study - BOCS Presentation
Rte. 234 Wetland Mitigation Area Tour - Birds & Other Things that Fly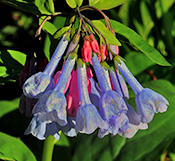 2014 Bluebell Festival at Merrimac Farm
What a great day! The Bluebells were in good form, the tours were a success, and wildlife was surprisingly cooperative.
A Five-Lined Skink popped in and out of cracks and crevices in the Stone House Pourch and a Black Rat Snake meandered along the edge of the drive.
Falcate Orangetip butterflies flitted around the Stone House and along the trail.
We also saw a Mourning Cloak, Zebra Swallowtail, Eastern-tailed Blue, Spring Azure, and an Anglewing (Comma or Question Mark).
Birder Larry Meade reported seeing several White-eyed Vireos, a singing Red-eyed Vireo and a Yellow-throated Vireo which was flying around among the budding trees.
The warblers for the day included Prairie, Palm, Yellow-rumped and Northern Parula.
Also of note were two Purple Martins flying over and a Barred Owl calling from the woods.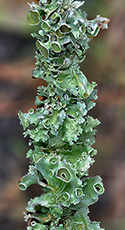 But what is life to a lichen? Yet its impulse to exist, to be, is every bit as strong as ours—arguably even stronger. If I were told that I had to spend decades being a furry growth on a rock in the woods, I believe I would lose the will to go on.
~Bill Bryson

Act Locally!
PWCA stewardship programs are possible thanks to the support of our members.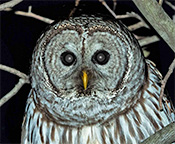 Barred Owls Mating
by Steve Tabone
Monday evening was a beautiful spring night, warm and comfortable. I was enjoying it from my office with the sliding glass door open onto my upper deck overlooking the lake.
It was very quiet until I heard one of the pair of Barred Owls that live in the wooded areas around the lake.
They were calling back and forth to each other. Their calls were very loud. They sounded close.
I quickly grabbed one of my cameras that I keep ready and mounted on a tripod with a speedlight and Better Beamer. The owls were in the trees between my house and the lake. Keep reading and view a fabulous photo of Barred Owls mating.
PWCA
703.490.5200
2241-F Tackett's Mill Drive, Woodbridge
pwconserve.org
Attracting Birds with Native Plants with Speaker Nancy Vehrs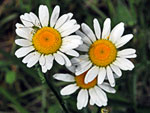 1st Thursday Speaker Series
When: Thursday, May 1 at 7:30pm
Where: Bull Run UU Church, 9250 Main St., Manassas
We all know that we can attract birds to our yards with feeders, but is that what they really need? Are our feeders just the neighborhood fast food joints for them?
Learn about the relationship between birds and native plants, and how you can attract and nurture birds in your own piece of the planet.
Wildlife Garden Planting Day & Dump Run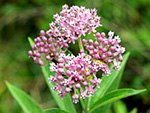 When: Saturday, May 24, 10am-2pm
Where: Stone House at Merrimac Farm, 15020 Deepwood Lane, Nokesville
We'll have 50 trees and shrubs to plant, thanks to support from the VA Dept. of Forestry, so we'll need some help! Other jobs include weeding, spreading mulch, removing invasives and clearing out the garage.
This four-season greenscape of native plants is creating a high quality area for families to watch wildlife in a public area that is easy to access.
We're also working in the Wildlife Garden on the first and second Tuesday morning of every month, and some Saturdays. For more information, contact Karen at klyle@pwconserve.org.
For all work days, bring a smile and a shovel, if available. We appreciate your help!
Bi-County Parkway Update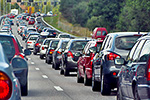 Governor McAuliffe has announced that he still likes the concept of building the road. When he visited Manassas on Earth Day, April 22, the Governor heard from executives at Micron that they supported the road.
Micron ships computer chips produced on Godwin Drive via Dulles airport, so the $400-500 million road would facilitate Micron's shipping of one truck per day to Dulles.
Do the math: Would you rather spend $400-500 million in tax dollars to fix congestion for Prince William commuters, or subsidize One...Truck...Per...Day for companies like Micron?
VDOT is receiving public comments now on its Six Year Plan, which includes continued funding. You can send your comments now HERE and contact the governor HERE.
Rural Crescent Study Report - BOCS Presentation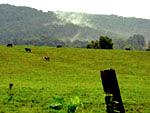 When: Tuesday, May 6, at 2pm
Where: Board Chambers at McCoart Government Center or watch on TV (Comcast channel 23, Verizon channel 37) or view online here.
In May 2012, Prince William Supervisors initiated a study to determine the "effectiveness" of the County's protected rural area, dubbed the Rural Crescent, and identify additional rural preservation strategies.
The Rural Crescent was established in 1998, when Prince William County adopted a Comprehensive Plan that formally established an Urban Growth Boundary.
The intent was to strengthen the County's capacity to control urban sprawl by defining an area that was available for higher density development and a protected rural area, which quickly became known as the Rural Crescent.
The results of the study are scheduled for review at the May 6 Board of Supervisors meeting, at 2pm. Read more...
Occoquan Watershed Study - BOCS Presentation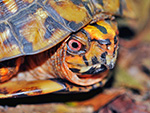 When: Tuesday, May 13, at 2pm
Where: Board Chambers at McCoart Government Center OR watch on TV (Comcast channel 23, Verizon channel 37) OR view online here.
The purpose of this study was to provide a scientific basis for prioritizing Capital Improvement Projects, which are generally funded by the Stormwater Fee and grants. The Draft Study Report is online here.
Four sub-watersheds were included, adjacent to the Occoquan River from the Town of Occoquan to the dam at Lake Omisol.
The study recommends specific restoration projects, with an estimated cost of $7,110,000.
The study also recommends the County take steps to reduce stormwater runoff by incorporating Low Impact Development (LID) measures to disconnect or reduce impervious surfaces, and initiate a study to identify specific parcels for implementing these LID measures.
Granted, it costs more to develop a property if streams and wetlands are protected. However, the average costs to restore streams identified in this study is $870/linear foot. Paying a little more up front begins to sound more reasonable, although many developers would likely to disagree.
Watch the presentation and find out more about what's happening to slow the flow of stormwater runoff and re-green our local streams. Send comments on the study to Clay Morris, PWC Watershed Management, at cmorris@pwcgov.org.
Rte 234 Wetland Mitigation Area Tour - Birds & Other Things that Fly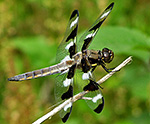 Save the date!
When: Saturday, June 7 at 8:30am
Where: Green Front Furniture, Harry J Parrish Boulevard, Manassas
Please join PWCA for a tour highlighting things that fly at the Rte 234 Wetland Mitigation area, led by Kevin Parker and Tom Dombrowski.
The Route 234 Wetland Mitigation Area is 89 acres of forested and emergent wetlands protected by an upland corridor. This site was developed by VDOT to replace wetlands and wildlife habitats lost to the construction of the Route 234 Bypass.
Dress for the weather, bring binoculars and cameras. More info and RSVP (appreciated not required) to PWCA , 703.499.4954 or alliance@pwconserve.org.