All the plants featured in this newsletter are blooming now in the wildlife garden at Merrimac Farm.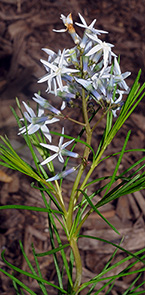 Even if I knew that tomorrow the world would go to pieces, I would still plant my apple tree.
― Martin Luther King Jr.
What are the benefits of the Rural Crescent?
Steering growth to Prince William's Development Area helps keep property taxes lower for all landowners by reducing the costs of new public facilities.
Taxpayers can finance cost-effective infrastructure in Development Area or spend even more money to build equivalent infrastructure in the Rural Area.
The Rural Area also reduces traffic congestion.
Commuters who live closer to job centers spend less time on the road. Workers who live in new residences near Nokesville will clog more miles of Route 28 when driving to work in Fairfax or DC.
One major benefit of the Rural Area is the opportunity to preserve farmland, diversifying the county's economy and creating a more-local food supply.
Loudoun and Fauquier counties demonstrate the potential for long-term farming, including wineries.
That potential exists in Prince William's Rural Area today only because most residential development has been directed to the Development Area over the last 15 years.
There are other benefits as well, such as offering an attractive gateway to Prince William.
The county's plans to attract businesses assume that quality-of-life characteristics will help Prince William compete with other jurisdictions.
The open space of the Rural Crescent offers a clear contrast to Arlington, Alexandria, and Fairfax... helping PWC compete for jobs in the economy of the future.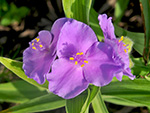 PWCA 1st Thursday Speaker Series with Speaker Charlie Grymes
WHEN: Thursday, June 5, 7:30-9:00pm
WHERE: Bull Run Unitarian Church, 9350 Main Street, Manassas
In 1608, John Smith and his crew rowed up the Potomac River to become the first Europeans to visit Prince William.
In the 1700's, Prince William's first industrial operation (Neabsco Iron Works) relied upon the river to import ore and export pig iron ingots, but the county's future in transportation faded when sediment runoff from tobacco farms clogged the port at Dumfries.
By the 1960's, the extraordinary pollution in the "nation's river" helped spur Congress to pass the Clean Water Act. Today, all of our wastewater and all our stormwater flows into the river, and plans to save the Bay require first that we save the Potomac River - but is Prince William on track to do that?
Volunteer - Wildlife Garden Work Days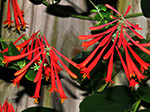 We planted more than 50 trees and shrubs on May 24. The wildlife garden is beginning to take shape and now we need to keep up the good work!
Planting is a tough job and all could be lost without long-term maintenance. Please join us for a morning of weeding, pruning, watering, and wildlife watching.
Workday Schedule - All start at 9:00am at the Stone House at Merrimac Farm, 15020 Deepwood Lane, Nokesville.
Tues, June 10
Sat, June 21
Sun, June 29
Tues, July 1
Bring a smile and a shovel. We appreciate your help!
RSVP appreciated to alliance@pwconserve.org, 703.490.5200. Questions? Contact us at alliance@pwconserve.org or 703.499.4954.
Read more about Merrimac Farm Wildlife Management Area here.
Rte. 234 Wetland Mitigation Area Tour -Birds, Butterflies & Dragonflies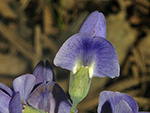 WHEN: Saturday, June 7 at 8:30am
WHERE: Meet in the parking lot by Green Front Furniture, 10154 Harry Parrish Blvd, Manassas
RSVP Appreciated to alliance@pwconserve.org
Please join us for a field trip to the Rte 234 wetland mitigation area, usually closed to the public, led by birding enthusiast Kevin Parker and wetlands expert Tom Dombrowski.
The Rte 234 wetland mitigation area is 89 acres of forested and emergent wetlands protected by an upland corridor. This site, which is usually closed to the public, was developed by the Virginia Dept. of Transportation (VDOT)to replace wetlands and wildlife habitats lost to the construction of the Route 234 Bypass.
It is home to a wide range of breeding birds, butterflies, dragonflies and more that have yet to be discovered! Please join us for a fun morning exploring this great area.
Read more about the Rte 234 Wetland Mitigation Area here.
Insect Survey at Merrimac Farm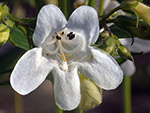 WHEN: Tuesday, June 10 at 3:00pm
WHERE: Merrimac Farm, Stone House, 15020 Deepwood Lane, Nokesville
We're taking a closer look at butterflies, dragonflies and other cool insects at Merrimac Farm. Please join us for a pleasant walk through upland areas in search of insects and help build our wildlife information for this great natural area!
Everyone is welcome, no previous experience required. Wear sturdy shoes and long pants.
Bird Walk at Merrimac Farm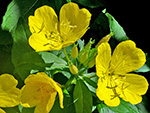 WHEN: Sunday, June 29, at 8am
WHERE: Merrimac Farm Stone House, 15020 Deepwood Lane, Nokesville
We'll look for birds as we travel through the uplands to the edge of the floodplain, covering a variety of habitats, including open fields and woodland edges. Everyone is welcome. View the bird list for Merrimac Farm here.
Dress for the weather, bring binoculars and cameras. More info and RSVP (appreciated not required) to PWCA , 703.499.4954 or alliance@pwconserve.org.
View the Bird List for Merrimac Farm here.
The plants featured in this newsletter are blooming now. They are, from the top: Bleeding Heart, Spiderwort, Trumpet Honeysuckle, Amsonia (left column), Blue False Indigo, Beardtongue, Sundrops.