IN THIS ISSUE
Pollinator Survey at Merrimac Farm
Rte. 234 Wetland Mitigation Area Tour
Urban Forests: Challenges and Opportunities
Questions and RSVP (appreciated) for all activities...
703.499.4954, alliance@ pwconserve.org
Save the Date!
Volunteer Tree Planting at K9 Gunner Dog Park
When: Saturday, September 27 at 9:00am
Where: K9 Gunner Dog Park parking lot, by the intersection of Minnieville Road & Colby Drive, Woodbridge
Questions and RSVP (appreciated): alliance @pwconserve.org, 703.490.5200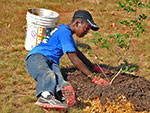 Please help us keep up the good work! We'll have about 60 trees and shrubs, plus more than 200 wildflowers to plant at the Minnieville Road buffer by the County Dog Park.
This planting day adds to the plants we planted last fall, thanks to community volunteers.
With your help, we're creating a more scenic Minnieville Road, new wildlife habitat, and protecting drinking water resources with native plants... flowers, berries, and bark.
We hope you can join us to help finish this important project. All ages welcome. Bring a smile and a shovel (if available)! Lunch is provided.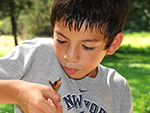 Prince William Conservation Alliance
2241F Tackett's Mill
Woodbridge, VA 22192
703-490-5200
Pollinator Survey at Merrimac Farm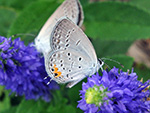 When: Thursday, August 21 at 3:30pm
Where: Stone House at Merrimac Farm, 15020 Deepwood Lane, Nokesville
We're taking a closer look at butterflies, dragonflies and other cool insects at Merrimac Farm.
Please join us for a pleasant walk through the Wildlife Garden and upland areas in search of cool critters close to home, and help build our wildlife information for this great natural area!
Everyone is welcome, no previous experience required. Wear sturdy shoes and long pants.
Rte. 234 Wetland Mitigation Area Tour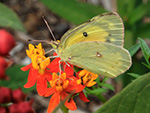 When: Saturday, August 23 at 8:00am
Where: Meet in the parking lot by Green Front Furniture, 10154 Harry Parrish Blvd, Manassas
Please join us for a field trip to the Rte 234 wetland mitigation area, usually closed to the public, led by birding enthusiast Larry Meade and wetlands expert Tom Dombrowski.
The Rte 234 wetland mitigation area is 89 acres of forested and emergent wetlands protected by an upland corridor. This site, which is usually closed to the public, was developed by the Virginia Dept. of Transportation (VDOT)to replace wetlands and wildlife habitats lost to the construction of the Route 234 Bypass.
It is home to a wide range of breeding birds, butterflies, dragonflies and more that have yet to be discovered! Please join us for a fun morning exploring this great area.
Wildlife Garden Work Days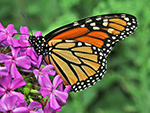 When: Thurs, Aug 28, and Sat, Aug 30, at 9am
Where: Stone House at Merrimac Farm, 15020 Deepwood Lane, Nokesville
We planted more than 50 trees and shrubs this past spring and the wildlife garden is really starting to look great. Now we need to keep up the good work!
Planting is a tough job, but all is easily lost without long-term maintenance. Please join us for a morning of weeding, pruning, and watering, dates listed in the left column.
We appreciate your help! Read more about Merrimac Farm Wildlife Management Area here.
Urban Forests: Challenges and Opportunities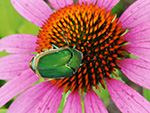 PWCA 1st Thursday Speaker Series

Speaker: Tim McGonegal, Branch Chief, PWC Mosquito and Forest Pest Management
When: Thursday, September 4, 7:30pm
Where: Bull Run Unitarian Universalist Church, 9350 Main St, Manassas

Urban forests have environmental, social and economic benefits but their proximity to human activity poses threats that must be addressed. What are the big threats today and what is anticipated for the future?
Please join us to learn why urban forests are important, consider local threats to forest health, and discuss what we can do to better protect our green resources.