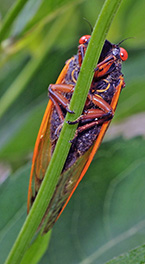 Family Earth Fling at Tackett's Mill
Saturday, October 11 from 10am to 2pm at Tackett's Mill Lakeside, by Old Bridge Road & Harbor Drive
Meet people working to improve our community, learn how you can help.
Special tours on trees, water protection and a worm composting demonstration! Enjoy live music from Lou Rosgen, educational displays, games, and crafts.
Click HERE to read about activities and participating groups. Questions? Call PWCA at 703-490-5200 or PWC Public Works at 703-792-6819.
Save the date!
The Nokesville Christmas Bird Count is on Sunday, December 28, beginning at 7:00am
There's three ways you can help: (1) Identify and count birds in the field, beginning birders welcome; (2) Identify and count birds in your backyard, if you live in the circle boundaries; (3) Prepare and/or serve food to cold, hungry birders at the Merrimac Stone House beginning at 11:00 am.
Read about previous Nokesville counts here.
View the results for Nokesville (VANO) and other counts on the Audubon Society webpage here.

PWCA
2241F Tackett's Mill Drive, Woodbridge 22192
703.490.5200
With your support, we can make good things happen.
Click here to join.
Sunday, September 28 beginning at 3:00pm at the home of Cindy Smith and Rick Linsday in Nokesville. Suggested donation: $50
Please join us to celebrate the mission of Prince William Conservation Alliance and raise funds to protect wildlife habitat close to home.
This is a Festive Occasion featuring a silent auction and hands-on construction of an Insect Hotel for the Wildlife Garden at Merrimac Farm. (You can view a sampling of auction items online here.)
Insect Hotel are refuges for beneficial garden insects. We'll need densely packed areas for ladybugs and hollow bamboo canes for bees. Other fillers are old plant pots, pine cones, wood chips, twigs, and more. We'll have supplies on hand, feel free to bring some of your own to add!
We hope you can join us for this fun event, with good conversation, good food, and a good cause.
Casual attire, directions provided when you RSVP to PO Box 6351, Woodbridge, VA 22195 703.499.4954, alliance@pwconserve.org
Lake Manassas - City Council Work Session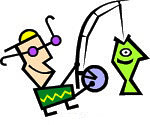 Tuesday, September 23, 6:00 pm at Manassas City Hall, 2nd floor conference room, 9027 Center Street, Manassas
Scheduled at the request of Councilman Marc Aveni, this work session will focus on opportunities for public access to Lake Manassas for fishing and nonmotorized boating.
The Open Space Game
Which of the following do you think meets the official county definition of "open space"?
1. Active recreation facilities
2. Community recreation centers
3. Power lines
4. Stormwater management infrastructure
5. Buffers along roads
6. Middle schools
7. None of the above
If you picked "none of the above," think again. According to the staff report for the proposed Stone Haven development project, the County Planning Office agrees with the developer that items 1-6, above, qualify as open space in Prince William County.
The county is trying to change from commitments of "Protected Open Space" and establish a new category, "Pretend Open Space." It's a fraud, unless you think the proposed bus parking lot next to Catharpin Park is no different from the park itself. Keep reading...
Volunteer Tree Planting at K9 Gunner Dog Park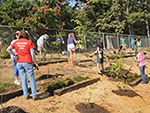 Saturday, September 27, 9:00am at K9 Gunner Dog Park parking lot, by the intersection of Minnieville Road and Colby Drive, Woodbridge 22192
Questions and RSVP (appreciated): alliance @pwconserve.org, 703.490.5200
Please help us keep up the good work! We will have about 50 trees and shrubs, plus more than 100 wildflowers to plant at the Minnieville Road buffer by the County Dog Park. We could use you help!
This planting day adds to the trees, shrubs, and wildflowers we planted last fall and spring. Thanks to volunteer support, it was the beginning of a new, improved buffer adjacent to K9 Gunner Dog Park.
We hope you can join us to help finish this important community project. Bring a smile and a shovel (if available)! Lunch is provided.
Get Ready for Winter Birds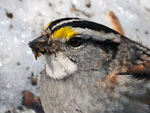 PWCA 1st Thursday Nature Tales
Thursday, October 2, 7:30pm at Bull Run UU Church, 9250 Main St., Manassas
Speaker: Larry Meade, Northern Virginia Bird Club
It's time to brush up for the coming winter and the Nokesville Christmas Bird Count, December 28. Join us for Larry's refresher course on confusing winter birds. Find out the species to look for and get tips on identifying LBJ's (Little Brown Jobs), finches, and other birds who brave the winter in Prince William. Program includes great photos, bring a story to share!