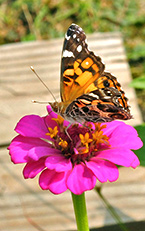 The suburbs are the new frontier. This is going to be the place where all these living things find refuge.
--Rick Darke
We don't have to get the government involved. We can put these native plants in our yard and see conservation right before our eyes.
-- Doug Tallamy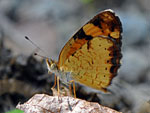 Pearl Crescent
Phyciodes tharos
Flying or gliding low across open pastures, fields, and power line cuts, the Pearl Crescent nectars on dogbane, milkweed, aster flowers.
If you want to attract them to your yard, be sure to plant asters (Asteracae), which are the host plant for Pearl Crescent caterpillars.
PWCA
2241F Tackett's Mill Drive, Woodbridge
703.499.4954,
alliance@ pwconserve.org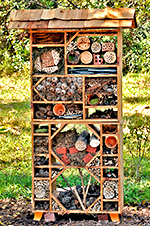 When: Monday, January 19 from 10am to 2pm
Where: Merrimac Farm Stone House, 15020 Deepwood Lane, Nokesville 20181
Please join us to celebrate community through a day of service to the environment.
We plan to clear the edges of the existing Wildlife Garden and spread mulch to prepare for a native tree and shrub planting on March 14 (save the date!). We also have some cleaning inside the Stone House Visitor Center... there's something for everyone to do!
Tools will be available, extra wheelbarrows are helpful. Food is provided. For questions and to RSVP, call PWCA at 703-499-4954 or email alliance@pwconserve.org.
Talk: Rick Darke on The Living Landscape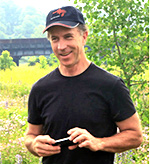 When: Sunday, February 15 from 2:00 to 4:00pm

Where: Manassas Park Community Center 99 Adams Drive Manassas Park VA 20111
Please join us for a presentation by Rick Darke, author of The Living Landscape: Designing for Beauty and Biodiversity in the Home Garden, a collaboration between Rick Darke and Doug Tallamy. Learn how to take a fresh look at your backyard and what you can do to create a landscape that is full of life.
After the presentation, Mr. Darke will sell and sign copies of his book. This event is free of charge and open to the public. Refreshments will be served. For questions and to RSVP, call 703-792-7747 or email master_gardener@pwcgov.org
This event is sponsored by the Prince William Wildflower Society, Prince William Conservation Alliance & Master Gardeners of Prince William.
Bird Walk at Merrimac Farm
When: January 25... on the last Sunday of every month, beginning at 8:00 am
Where: Merrimac Farm, Stone House, 15020 Deepwood Lane
We'll look for birds as we travel through the uplands to the edge of the floodplain, covering a variety of habitats, including open fields and woodland edges. Everyone is welcome. View the bird list for Merrimac Farm here.
Dress for the weather, bring binoculars and cameras. More info and RSVP (appreciated) to PWCA , 703.499.4954 or alliance@pwconserve.org.