View more cool photos and share yours on our Merrimac Farm group flickr page!
Check out which plants are blooming and what wildlife is active in mid-summer.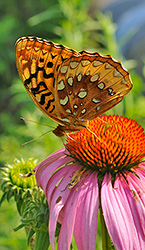 All photos in this newsletter (and more) were taken while weeding the Wildlife Garden at Merrimac Farm on June 28. All told, we saw 13 species of butterflies. From the top...
Pipevine Swallowtail on Purple Coneflower
Red-spotted Purple on Car Window
Featherleg Fly on Narrow-leaf Mountain Mint
Great Spangled Fritillary on Purple Coneflower
Hummingbird Clearwing moth on Wild bergamot
Grey Hairstreak on Narrow-leaved Mountain Mint
Zebra Swallowtail on Butterflyweed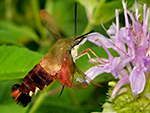 Hummingbird Clearwing moths have white front legs and wings with blackish-red scales that fall off at their first flight, leaving translucent (clearwing) areas.
The similar Snowberry Clearwing has black legs and is typically slightly smaller.
At the Wildlife Garden, we planted Blue Star Amsonia, Trumpet Honeysuckle, and New York Ironweed which provide food for clearwing moth caterpillars.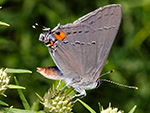 Grey Hairstreak butterflies are small, with wings just about an inch from tip to tip.
Grey Hairstreaks are our most common hairstreak and they are found throughout the entire U.S.
We planted Butterflyweed and Partridge Pea at the Wildlife Garden to provide food for Grey Hairstreak caterpillars.
Walking Tour: Past, Present, and Future of Downtown Manassas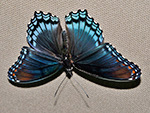 Saturday, July 11, 10-11:30am. Meet at the Manassas train station, 9451 West Street, Manassas. RSVP appreciated to alliance@pwconserve.org, 703.499.4954.
Leader: Charlie Grymes, PWCA Chair
Since the 1850's, the development of homes and businesses at Manassas has been based on transportation. A train depot still services passengers, and the city is at risk of evolving into a walkable community.
The defunct Journal-Messenger newspaper building and a nearby car wash are morphing into new housing, as the city invested in "streetscaping" and festivals to develop an arts and entertainment district.
This walking tour will examine the history of the downtown, changing patterns of transportation and land use, and what's next as elected officials propose expanding VRE/Amtrak and a new bypass on Godwin Road to divert commuter traffic.
Volunteer - Wildlife Garden Workdays at Merrimac Farm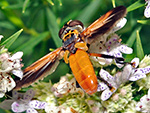 When:
*Tuesday, July 21, 9am
*Saturday, July 18, 9am
*Sunday, July 26, 2pm
The Wildlife Garden is located behind the Stone House at Merrimac Farm, 15020 Deepwood Land, Nokesville, directions.
Help us keep up the good work at the Wildife Garden! Planting is a tough job, but all is easily lost without long-term maintenance.
With all the rain, the garden looks just beautiful. At last weeks work day we saw 13 species of butterflies, not bad at all. Please join us for a few hours of fun weeding, watering, and wildlife watching.
Learn more about which plants might be good for your backyard and help increase wildlife diversity at a public nature area. We have gardening tools and gloves. Wear long pants, hats are helpful.
What's the solution to traffic congestion on I-66?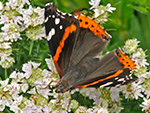 According to the Virginia Department of Transportation (VDOT), one option (Alternative 2B) is to build a massive pair of parking lots right at the edge of the Rural Area, west of Haymarket.

Will they ever learn?

we have been playing catch-up between sprawl and crawl since the Shirley Highway (now I-95) was built south from the Pentaon to the Occoquan River around 1950. New subdivisions in Prince William County led to new commuters, creating traffic jams.

After highways were expanded, developers advertised "highways just widened – buy a house on the edge of development." More new subdivisions led to more new commuters, creating traffic jams all over again.

Building all that highway infrastructure over the last 65 years has been expensive – and has traffic congestion improved? Will more of the same fix the problem this time?

New commuter parking lots west of Haymarket will be a government-funded incentive for busting the Rural Area to add more housing, and to encourage commuting from Culpeper and the Shenandoah Valley. We need to address both the supply and the demand side of the equation.

Large commuter parking lots also create rush-hour congestion as everyone drives through Prince William from scattered housing to parking spots.

There is an alternative. It includes an expansion of transit capacity, properly located. If we provide quality transit opportunities and encourage people to live near bus/rail stations, the extra people moving into the county will not create as much local congestion.
Monthly Bird Walks at Merrimac Farm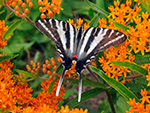 The last Sunday of every month, beginning at 8:00am.
Meet at the Stone House, 15020 Deepwood Lane. Dress for the weather, bring binoculars and cameras.
Leaders: Nancy Vehrs and Harry Glasgow
The last walk on June 28 turned up 33 species. You know you're off to a good start when the first bird spotted on the walk is a Yellow breasted Chat.
As the group continued, they encountered several Prairie Warblers darting about in trees. The walk took a bit longer than usual because of the distraction of ripe raspberries. Very tasty! View the bird list for Merrimac Farm HERE.