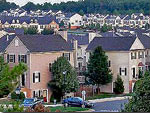 Prince William County's Commercial Development Committee (CDC) includes representatives from local developers, PWC and Manassas Chambers, the Northern Virginia Building Association, land use attorneys, and companies that provide developer services.
The CDC is staffed by representatives from the County's Land Development Division, Public Works, and the Fire Marshall.
This Committee recently recommended that the Board of County Supervisors (BOCS) re-evaluate "buffer requirements to reduce their impact on business development."
In early June the BOCS started the process when they voted unanimously to initiate amendments to the Zoning Ordinance and Design & Construction Standards Manual.
Buffers are vegetated areas that help avoid conflicts between abutting land uses, shield unattractive public and private infrastructure, and are required along the edges of some streets, as identified by Highway Corridor Overlay Districts.
In some developments buffers may be the only substantial green space that exists. Buffers protect residential areas from more intense commercial uses, create visually attractive streetscapes, protect streams, help manage stormwater runoff, improve the appearance of our communities, and increase property values.
Despite the many benefits, developers are focused on maximizing buildable land and not on long-term benefits. They are asking for changes to all zoning districts and uses, including to buffer sizes.
The CDC is also requesting approval to "share uses" within buffers, such as with utilities, stormwater management structures and other. Adding infrastructure to buffers would make the retention of undisturbed buffers near impossible and as for re-planting, you can't plant trees on top of utility lines.
These proposed changes to the County's minimum development standards are currently under review by County staff and the Development Ordinance Review Committee, also heavily populated by developer interests.
Make sure your voice is heard! Click HERE to email Supervisors.
Also contact staff, email addresses below, and include a request to forward your comments to the Development Ordinance Review Committee.
Learn more about the value of protecting green spaces on this great webpage by the University of Washington HERE.