In this Issue
Supervisors Pass on Proposed VRE Extension to Haymarket
Fall Forestry & Wildlife Field Tour

Community involvement is key to healthy communities.
PWCA creates opportunities for people to get involved and provides up to date info on current issues.
We also create on-the-ground improvements. For example, check out the yellow glow of Black-eyed Susans and Goldenrod along Minnieville Road, by K9 Gunner Dog Park. And thank you if you've joined us to keep the area free of invasive plants!
Our successes are thanks to your support. If you haven't yet joined or renewed your membership, please consider doing so now! Your support makes all the difference.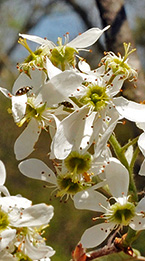 Serviceberry, Amelanchier arborea, is a small tree that grows in sun or shade in a variety of habitats, from wooded slopes to the edges of swamps.
This pretty tree has smooth gray bark and white flowers that open in early April, making it an important early nectar source for pollinators.
It is also known as shadbush because the blooms signaled the start of the shad run in rivers.


The purple-red fruits ripen in June and are well loved by the Cedar Waxwing, Hairy Woodpecker, Hermit Thrush, Baltimore Oriole and many other birds as well as people who use the berries for jam and pies.

Serviceberry is also a host plant for Red-Spotted Purple and Viceroy butterflies.
The best time to plant a tree was 20 years ago. The second best time is today.
Prince William Supervisors Pass on Proposed VRE Extension to Haymarket
At their September 6, 2016, Board meeting Prince William County Supervisors finalized a list of the County's transportation priorities for submission to the Virginia Department of Transportation (VDOT). The proposed VRE extension to Haymarket/ Gainesville was on that list
PWCA met with Supervisors, published information online and talked with organizations promoting the idea of a VRE station at Innovation, as opposed to extending VRE to a location by Haymarket at the edge of the Rural Crescent.
Haymarket resident Tadd Wilson said, "PWCA's analysis of extending VRE to Haymarket was both powerful and persuasive.
Powerful, because it used VRE's own numbers to show a cost of $30,000 per vehicle removed from Interstate 66 - not a great way to conserve scarce transportation resources and taxpayer dollars. Persuasive, because it recommended a winning alternative: investing in additional trains versus additional track."
The Board of County Supervisors agreed and voted unanimously to remove the Haymarket/ Gainesville extension from the list of priorities they endorsed. Read more...
PWCA Open House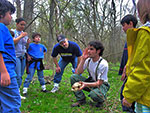 Wednesday, September 21, 5 to 7:30pm at Prince William Conservation Alliance, 2241F Tackett's Mill Drive, Woodbridge
Please join us for a drink, appetizers, and join our lively ongoing conversation about parkland and green open space in Prince William County. Share your ideas, learn more about current issues and opportunities.
Our Open House is free of charge, everyone is welcome. For more information, contact us at alliance@pwconserve.org or 703-499-4954.
Fall Forestry and Wildlife Field Tour - 40th Anniversary!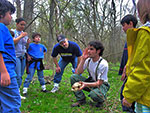 Friday, October 14th, 8am meet at Manassas National Battlefield Park, Brownsville picnic area. Cost is $35, click here for event brochure and here to register.
Join fellow forest lovers and natural resource professionals for a fun and exciting day learning about forest and wildlife management. Tour stops include:
Wildlife and Water – Manassas National Battlefield Park
The Family Tree Farm – Lerch family farm
Lunch: Merrimac Farm Wildlife Management Area
Development and Land Use – The Villages of the Piedmont
Stop 4: School of Hardwoods and Hard-knocks – Conway Robinson State Forest
Be a Habitat Hero!
Help needed for Invasive Plant Pulls ...
Merrimac Farm on Sat, Sept. 24 at 9am
Minnieville Road ... Sat, Sept 17 at 9am


Wildlife Garden at Merrimac Farm WMA - Before and After
Thanks to the many volunteers who worked to grow high quality wildlife habitats at Merrimac Farm and our restored buffer adjacent to K9 Gunner Dog Park on Minnieville Road. Both areas are attracting butterflies, birds, and a resident green frog at Merrimac Farm.
Please join us to help remove nonnative invasive plants that are trying to creep their way in and overtake important habitats! Bring a water bottle, wear long pants and sturdy shoes.
For Merrimac Farm, use the address 15020 Deepwood Lane for online directions.

For Minnieville Road, use the intersection of Minnieville Road and Colby Drive.
For questions and more info, contact us at alliance@pwconserve.org, 703.490.5200. RSVP appreciated.