In this Issue
Living Shoreline at Leesylvania State Park
These activities and programs are free of charge thanks to the support of our members. Please consider joining us today!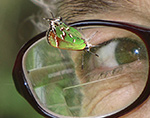 Happiness is a butterfly, which when pursued, is always just beyond your grasp, but which, if you will sit down quietly, may alight upon you.
~Nathaniel Hawthorne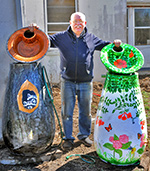 Two rain barrels handpainted by Jim Gallagher. Help slow stormwater runoff and add a touch of art to your garden!
The next Bluebell Festival is Sunday, April 8 2018!
The Occoquan Greenway Trail - Ten Year Anniversary Hike!
Sat, Oct 28, 2017 at 10am. RSVP required to alliance@ pwconserve.org
Sponsored by Prince William Conservation Alliance and Prince William Streams and Trails Coalition
Ten years ago we led the first hike down the Occoquan Greenway Trail from the McCoart Center to the Town of Occoquan, beginning a community effort open the trail to the public.
Today, about 2.4 miles of trail is available for hiking, from Lake Ridge Park to Cotton Mill Drive.
On October 28, we will hike about 7 miles, from Lake Ridge Park to the Town of Occoquan.
Thank you, Jim Gallagher!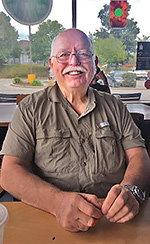 Jim Gallagher is a local artist who creates a new perspective by connecting art and nature. He is President of PW Art Society and has been part of PWCA since 2010.
Jim thinks art is a great tool to inspire people to get out and see nature. Art can encourage encourage people to pause and think about something they may have otherwise not considered.
Every year Jim paints a rain barrel to raffle off at the Bluebell Festival, an important fundraiser that adds an artful touch to backyards. Jim also painted the mural on the kiosk by the Stone House at Merrimac Farm, helping create a sense of place.
Jim says that being part of PWCA has changed his perspective on protecting nature. Prior to joining, he thinks that he would have simply cut down an inconveniently located tree. Now, Jim says he understands the tree is home to a wide array of wildlife and would make a different choice today.
His advice to anyone thinking about volunteering? Do it! Change starts from doing things, not just thinking about doing them. Thank you, Jim, for all that you do!

Wildlife Garden Workday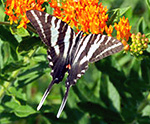 Sat, Aug 12, 9am to noon
Sat, Aug 26, 9am to noon
Merrimac Farm WMA Stone House, 15014 Deepwood Lane, Nokesville 20181 (at the very end of Deepwood Lane)
Thanks to volunteer support, we created an area at Merrimac Farm WMA where people and the environment can come together as one.
We need help to keep nonnative invasive plants in check to maintain high quality habitat. Even if you can come just once, your help makes a big difference. Wear long pants, sturdy shoes, and long socks.
RSVP (appreciated) to alliance@ pwconserve.org
Butterfly Walk at Merrimac Farm WMA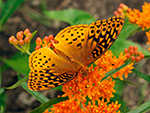 Sat, Aug 12, 1-3pm
Sun, Sept 17, 1-3pm
Meet at Merrimac Farm, Stone House, 15014 Deepwood Lane, Nokesville
Join us as we search for butterflies! Learn how to identify butterflies and the value of habitat diversity, meet new friends, and explore the great outdoors.
RSVP (appreciated) to alliance@ pwconserve.org
Living Shoreline at Leesylvania State Park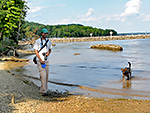 Sun, Sept 10, at 2pm.
Meet in the main (last) parking lot Leesylvania State Park, 2001 Daniel K. Ludwig Drive, Woodbridge
RSVP required to alliance@ pwconserve.org or 703.499.4954
Join us for a walk along a living shoreline at Leesylvania State Park led by ecologist Charles Smith and project designer Tom Dombrowski.
As sea levels rise, erosion of our Potomac River shoreline will increasingly threaten wetlands and wildlife habitats, and reduce the abundance of key bird and other species.
A variety of approaches to protect these important resources are available, ranging from hard fixes to investments that enhance natural areas.
Learn how the living shoreline at Leesylvania State Park was designed and functions, and observe the many benefits it provides to wildlife, local communities and the Chesapeake Bay. Read more...