2010 History of Efforts to Open Lake Manassas
Fish come and go, but it is the memory of afternoons on the stream that endure. — E. Donnall Thomas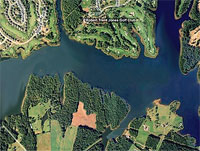 Lake Manassas has been closed to public use for 10 years after the city ended a franchise agreement with a private marina. For about 30 years before the closure, the lake was one of the most popular fishing spots in Northern Virginia. (There have gotta to be some big fish in there now… and city police do issue trespass warnings and some citations each year to the anglers who ignore the No Trespassing signs.)
December 7 2009 -- The Manassas City Council reviewed the status of Lake Manassas in a work session. The Virginia Department of Game and Inland Fisheries (DGIF) has proposed to acquire public access and build a boat ramp at the lake, using Federal Sport Fish Restoration grant money.
Acting on a motion by Marc Aveni, City Council voted unanimously to direct the Utilities Commission to continue negotiations with DGIF to open Lake Manassas to public use. No deadlines were set, and city officials still have concerns regarding water quality, access control, and costs – but as Mayor Parrish note, "It's a turning point." Keep reading...
During the work session, the room was filled with anglers who are looking forward to fishing again on Lake Manassas. Biologist John Odenkirk predicted that the lake "will be one of the most popular waters in Northern Virginia." Based on concern about potential over-use, the work session even included discussion about how to limit use to a maximum of 75-100 boats at a time. That's about 1 boat per 10 acres – an interesting parallel to the housing density permitted by the county's A-1 zoning in the Rural Area.
Opening Lake Manassas helps to implement the Virginia Outdoors Plan, and will bring positive attention to the City of Manassas. The Federal grants are funded primarily from taxes on fishing equipment and gas for motorboats, so there's still money for opening up the public lake to public use despite the state's current budget challenges.
Working through the DGIF will offer the city access to grant funding, and also a "more streamlined" process for building a gravel road, boat ramp, fishing pier, and other support facilities at Lake Manassas, compared to previous proposals that had been blocked by Prince William County. The county's Park Authority has already expressed interest in managing the proposed concession operation, renting boats and selling bait at the lake.
December 2 2009 -- The Manassas City Council will discuss opportunities to allow public access to Lake Manassas during a special work session on Monday, December 7, 5:30 p.m., at City Hall, 2nd floor conference room the Public Works building, 8500 Public Works Drive, Manassas, directions. Click here to view the meeting agenda and background documents.
Government staff and the Virginia Dept. of Game & Inland Fisheries have been working on a proposal to open Lake Manassas for public fishing, boating (no gas engines) and the quiet enjoyment of the scenic landscape.
Under the current proposal, Game & Inland Fisheries would assume responsibilities for managing surveys, stocking the lake and law enforcement. They would also construct a low-impact gravel parking lot, boat ramp and finger pier for launching and retrieving boats.
The City of Manassas has two options. Under the first scenario, public access to Lake Manassas would be unrestricted, open without registration or fees (except your fishing license). This open-access approach is successful at other Virginia reservoirs, including the Occoquan Reservoir in Prince William, Beaverdam Creek Reservoir in Loudoun, the Abel and Smith Reservoirs in Stafford, Mountain Run and Lake Pelham Reservoirs in Culpeper.
The City's other option is to place a modular or other structure at the site and contract with local business to manage a concession and collect fees, if imposed. Public access points would be opened at sunup and closed at sundown.
The 800-acre Lake Manassas has been closed to the public for many years. Good fishing spots are few and far between. Lake Manassas would be a welcome addition appreciated by wildlife watchers, paddlers and fishermen alike.
More information will be provided at the City Council's December 7 worksession. Plan to attend – you'll hear the latest information and, most important of all, let Councilmen know that opening Lake Manassas to the public is important to you.