Dove's Landing Named a Top Conservation Priority by Smart Growth Alliance!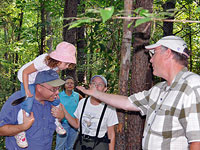 October 22 2008 -- The Washington Smart Growth Alliance today announced that Dove's Landing in Prince William County is a top environmental target of the Regional Conservation Priorities, recognizing the local values and regional significance found at this 225-acre property along the Occoquan River.
The Smart Growth Alliance, based in Bethesda, MD, publishes an annual report listing top conservation priorities in the National Capital Region. This program aims to promote conservation initiatives that contribute most to our future quality of life. The report notes that, by 2030, our region is expected to increase by two million people and more than 1.6 million jobs, adding pressure to historic sites and natural environments. (The time to act is now.)
According to Sam Black, president of the Alliance, "Dove's Landing was selected because it has been publicly owned for more than a decade but is not fully protected or available for general use." Dove's Landing is one of six priorities for 2008 identified by the Alliance.
Dove's Landing joins last years recognition of Merrimac Farm as a conservation priority. Prince William has been fortunate to receive this honor two years running! Read more...
Click here to view our preliminary plant list and here to view photos of our public tours at Dove's Landing.