Nature Discovery Classes for Children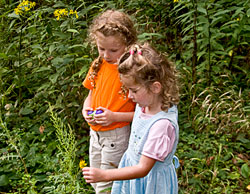 Early Explorers at Merrimac Farm Wildlife Managment Area
Early Explorers, for ages 4 to 6 years, meets on Tuesday mornings. Each class meets for 90 minutes. Two class times are offered - each session runs for 6 weeks.
Class sizes are limited to 8 participants, so register early!
SESSION 1 - Sept. 22 through Oct. 27

9:00 to 10:30 a.m. (1st class time)
11:00 a.m. to 12:30 p.m. (2nd class time)

WHERE: Merrimac Farm Wildlife Management Area, 15020 Deepwood Lane, Nokesville, directions

COST: $70/6-week session (includes 6 90-minute classes)

QUESTIONS: Call Kim Hosen at 703.499.4954 or alliance@pwconserve.org

Click here for Registration Form.
This six-week session introduces children to the natural world beyond their backyard. Classes will create and encourage a connection to the outdoor world by examining a fun and unique topic each week including trees, animal homes, birds, the forest floor, and seasonal changes.
Each morning will begin with a story or poem as an introduction, followed by a discovery walk.
The budding naturalists will finish with an artful creation related to the day's adventure. For ages 4 – 6. Classes begin Tuesday, September 22 at Merrimac Farm.