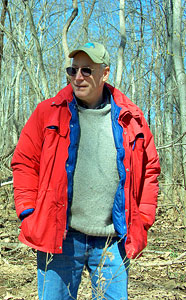 Will you live the rest of your life in Prince William County? If not ... does that make this community here - people, plants, critters, streams, etc. - less valuable to you?
Sometimes, we treat family and friends differently from strangers. We expect to see family and friends again - but that clerk at the counter, the person greeting you at the entrance to WalMart… well, do you feel the same obligation to be nice to strangers?
Let's be real - if we're not likely to see a person again, if we'll never notice the impact of our behavior, sometimes we might not care enough to use our best behavior. It may be true that "what goes around, comes around" - but if we're not there when the boomerang returns, we won't suffer.
So we may not feel the same level of personal commitment to helping strangers - but for every action, there are consequences. We could be the "stranger" to others. Haven't you had your day brightened at times when a fellow commuter lets you merge smoothly into traffic, or a person standing in line makes a joke that eases the wait? And haven't you had a moment that was soured by uncaring, inconsiderate behavior because someone wasn't thinking enough of you to be kind and professional?
Prince William County may be a stranger to many residents, including the 50,000 new residents who have arrived since the last Census in 2000. Many residents are transient, and do not intend to stay here forever.
But that doesn't mean we can throw litter on the street in Dale City or Haymarket, just because we won't be living here very long. Let's not ignore the mud flowing off construction sites into our streams, just because we won't be planning to swim or fish - or drink the local water - for very long.
We teach our children to play fair and be nice, whether or not the relationship will be permanent. Let's treat Prince William County the same way.
Let's protect what we have, including cultural and natural areas not yet transformed by development, even if we just plan to come back and visit after we retire to some other place - some other place that, hopefully, some strangers are protecting right now.
— Charlie Grymes, Chair