Chinn Park
Chinn Park, located near the intersection of Old Bridge Road and Prince William Parkway, is approximately 92 acres, with 62 acres dedicated to passive recreation and 30 acres for active uses (ball fields). In 2016, Prince William County Schools proposed to build a new school on 27 of the acres reserved for passive recreation.
As a result of community support for preservation of the parkland, the Schools has now proposed to build the school on a site adjacent to Chinn Parkland.
It's Schools v. Parks: Healthy Communities Have Both!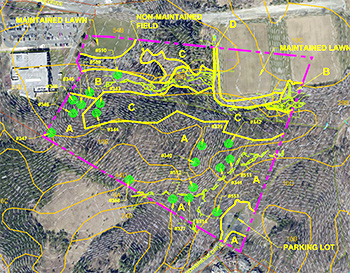 Prince William County Schools (PWCS) 2016 proposal to build a new school in east Prince William follows their long-standing practice of ignoring our natural and cultural resources.
This time PWCS is proposing to build their new school on one of the few forested parks in east Prince William.
The location is Chinn Park, where at least 20 of the 62 acres reserved for passive uses would be converted into a school, which would significantly alter the existing landscape and further fragment an urban forest.
Wetlands and non-perennial streams would be lost as well as a walking trail and significantly altering the existing landscape. The surrounding community would be disconnected from the library and fitness center.
This proposal has met with significant opposition from residents, civic groups, environmental organizations, homeowner associations, and others.
Who Cares?
People say they are concerned about the loss of parkland, green open space, and trail networks as well as environmental impacts and traffic issues. With opportunities to build up, co-locate schools, and re-use empty/underused commercial space, residents believe we can have both parks and schools.
Promises are Broken
As the result of obvious and widespread community opposition, Prince William County Schools promised local organizations and the Occoquan District Supervisor that they would withdraw their application for Chinn Park by February 19.
Sadly, PWCS failed to honor their commitment and their application to build a new school at Chinn Park remains active. Although withdrawal requires just a simple letter to the Planning Office, school staff claims they are too busy. They also say they would prefer to wait until after the planned (date uncertain) meeting with the Board of County Supervisors.
Woodland Parks are Green Treasures Amid a Sea of Grey
Chinn Park is a great example of an effective community park. In addition to protecting our green infrastructure, this park boasts a hike/bike path that connects surrounding neighborhoods to each other and to the library and fitness center. There is a very successful Bluebird Trail with 14 nesting boxes monitored by Prince William Conservation Alliance volunteers.
Parkland is an important part of healthy communities. It is in short supply in east Prince William. In the Occoquan District, there are less than 5 acres of parkland per 1,000 people, not even close to the PWC standard of 15 acres per 1,000 people.
Chinn Park and other wooded parks are well loved community resources. They are a breath of fresh air in increasingly congested areas. At Chinn Park, the surrounding area is already jam packed with a huge retirement home, fast food, veterinarian clinic, and six-lane parkway. Vehicle access to this area is limited as it was never intended to support a school.
Other Options are Available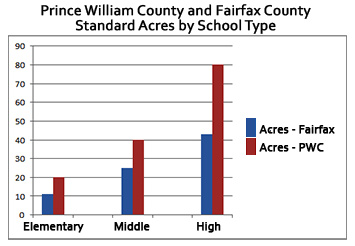 Parkland is a poor choice for new school sites, especially when other opportunities are available. Adaptive re-use is one option, such as Bailey's Elementary School for the Arts and Sciences in Fairfax County, which was formerly an office building.
Fast and easy is also available... Co-locating a school at the Garfield High School site is a very good option. There is enough room to add a new elementary school, PWCS already owns the land, and bus traffic would not overlap commuter rush hours.
Parks are important for too many reasons to include here. But consider just the benefits to economic development (said to be a Board of County Supervisors priority).
According to the VA Outdoor Plan, small company owners say recreation, parks and open space are the highest priority in choosing a new location for their business.
We need new schools AND we need all the parkland we can get. Why would we sacrifice an irreplaceable asset when better options for a new school are available? Share your views with officials here.