Chinn Park Proposed Public School

Chinn Park, located near the intersection of Old Bridge Road and Prince William Parkway, is approximately 92 acres, with 62 acres dedicated to passive recreation and 30 acres for active uses (ball fields). In 2016, Prince William County Schools (PWCS) proposed to build a new school on 27 of the acres reserved for passive recreation.
There was significant community opposition to constructing a new school on Chinn Parkland. People said they were concerned about the loss of parkland, green open space, and trail networks as well as environmental impacts and traffic issues.
As a result of community support for preservation of the parkland, the Schools has now proposed to build the school on a site adjacent to Chinn Parkland. While this new site appears to be more acceptable to the community, there are still unresolved issues regarding impacts to parkland, adjacent neighborhoods, and traffic problems.
In addition, opportunities co-locate schools or re-use empty/underused commercial space, continue to be disregarded. Residents believe we can have both parks and schools.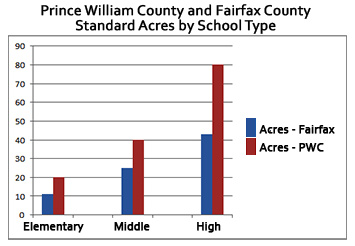 Adaptive re-use is one option, such as Bailey's Elementary School for the Arts and Sciences in Fairfax County, which was formerly an office building.
Fast and easy is also available... Co-locating a school at the Garfield High School site is a very good option. There is enough room to add a new elementary school, PWCS already owns the land, and bus traffic would not overlap commuter rush hours.
Parks are important for too many reasons to include here. But consider just the benefits to economic development (said to be a Board of County Supervisors priority).
According to the VA Outdoor Plan, small company owners say recreation, parks and open space are the highest priority in choosing a new location for their business.
We need new schools AND we need all the parkland we can get. Why would we sacrifice or degrade an irreplaceable asset when better options for a new school are available? Share your views with officials here.