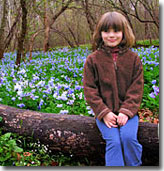 Bring your family and friends to Merrimac Farm on Sunday, April 15, 10:00 am to 4:00 pm, to welcome spring and celebrate nature.
This year's Festival has a greater focus on wildlife and history... due to the extreme warm temperatures this winter, Bluebells and other wildflowers are early bloomers this year.
There's so much more to see at Merrimac Farm! With some of the best Northern Virginia naturalists leading tours and activities, we're looking forward to a special day at an outstanding natural area. We hope you can join us.
Schedule of Events
Ongoing activities shown on right column, nature tours below
Tours last about 90 minutes and take an easy one-mile walk through the floodplain. Each tour has a special focus, although leaders will cover other interesting sights you encounter along the way. Bring binoculars, cameras and the kids!
| | | |
| --- | --- | --- |
| Time | Leader | Focus |
| 10:00am | Larry Meade, Northern Virginia Bird Club | Things that fly -- Birds, butterflies & dragonflies |
| 10:30am | Charlie Grymes, PWCA and Historic Prince William | Colonial Brent Town and how the government re-aquired this land for a nature preserve |
| 11:00am | NatureBridge, Especially for Families | A hands-on, interactive exploration of habitats and wildlife. Everyone can use field microscopes and other tools for a closer look at what fascinates you. |
| 11:30am | Charles Smith, Prince William Wildflower Society | Native plants identification, interaction with wildlife and role in the floodplain environment |
| 12:00pm | Ernie Sears, PWCA | Visit some of the best places for photos with camera and guide |
| 12:30pm | Larry Meade, Northern Virginia Bird Club | Things that fly -- Birds, butterflies & dragonflies |
| 1:00pm | Cliff Fairweather, Long Branch Nature Center | Butterflies, bees & other pollinators that make wildflowers possible |
| 1:30pm | Charles Smith, Prince William Wildflower Society | Native plants identification, interaction with wildlife and role in the floodplain environment |
| 2:00pm | NatureBridge, Especially for Families | A hands-on, interactive exploration of habitats and wildlife. Everyone can use field microscopes and other tools for a closer look at what fascinates you. |
| 2:30pm | Ernie Sears, PWCA | Visit some of the best places for photos with camera and guide |
| 3:00pm | Cliff Fairweather, Long Branch Nature Center | Butterflies, bees & other pollinators that make wildflowers possible |
| 3:30pm | Charlie Grymes, PWCA and Historic Prince William | Learn about Colonial Brent Town and how the government re-aquired this land for a nature preserve |