IN THIS ISSUE
Community Service - Merrimac Farm Work Day
Nokesville Christmas Bird Count
Prince William Conservation Alliance
703-499-4954
pwconserve.org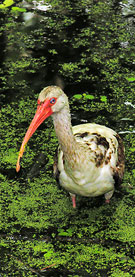 Many thanks to the volunteers who made the Nokesville Christmas Bird Count a huge success!
Alton Dick
Bill Hohenstein
Bob Blakney
Bob Shipman
Carrie Brausieck
Catherine Pauls Kubo
Cathy Ring Grymes
Cliff Fairweather
Eli Hosen
Gary Myers
Harry Glasgow
Jake Hosen
Jean Miller
Jeff Irwin
Jenny Vick
Jim Gallagher
Jim Waggener
Judy Gallagher
Judy Kenyon
Karen Fairweather
Kelly Jimenez
Kelly Moravec
Kevin Parker
Kristin Davis
Larry Meade
Larry Underwood
Lauren Shaffer
Lindsay Bloch
Marc Ribaudo
Mary Thompson
Matt Myers
Nancy Shipman
Nancy Vehrs
Perri Borowiecki
Phil Silas
Rich Reiger
Tim Stamps
Todd Day
Tom Attanaro


A free & easy way to support PWCA!

Shop through
our store
on Amazon.com and a % of your purchases comes back to our non-profit to benefit stewardship programs.
Discover Nature
Close to Home
The skunk cabbage looks like it came from a science fiction movie, but it can be found in wet areas such as streams, marshes, and wet woods.
Skunk cabbage is one of the first plants to bloom in the spring. The first part of the plant to emerge is called the spathe, which is a brownish-purple pod-like structure with green splotches.
As the spathe grows, it reveals the spadix, a small knob covered with tiny yellow flowers.
By late spring, a tightly rolled leaf spurts from the ground that eventually matures into a form more recognizable as a cabbage.
When the leaf unfurls, it may be one to two feet long and a foot wide. If the leaves are crushed, the plant produces a strong odor reminiscent of rotten meat.
Whereas the smell would send us running away, the smell attracts insects, which pollinate the plant. The most notable pollinators are flies, but butterflies, bees, and beetles also important pollinators.
As autumn arrives, the leaves fall and rot. Slugs, millipedes, isopods, and other animals eat the leaves, but they are poisonous to mammals, including humans.
The large fallen leaves also provide shelter for small animals.
In late winter and early spring, new flowers release heat, which can melt snow surrounding the flower. The heat draws flies and other insects to the plant.
Volunteer! Merrimac Farm Work Day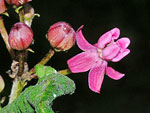 When: Saturday, January 19, from 10:00 am to 2:00 pm
Where: Merrimac Farm Wildlife Management Area, 15020 Deepwood Lane, Nokesville 20181
In honor of Dr. Martin Luther King Jr. birthday, President Obama has called for a national day of service on January 19. Please join us at the Stone House at Merrimac Farm to participate in this national event and help improve an important Prince William natural area!
Depending on volunteer support and the weather, we'll be working on three areas: Stone House, Wildlife Garden and French family cemetery. Bring the kids, there's plenty to do for everyone. If you have supplies to share, we appreciate the extras.
Lunch is provided. Questions and RSVP (appreciated not required) to alliance@pwconserve.org or 703-499-4954.
When: Sat, January 26
Doors open at 6:00 PM (dinner), the program begins at 7:30 pm
Where: The Electric Palm, 12745 Sea Ray Lane, Woodbridge
Open to the public & free of charge, buy your own food & drinks. Note: Restaurant seats 60 people, after that it's Standing Room Only
PechaKucha Night is an informal community gathering where creative people get together and share their ideas, passions and experiences through a presentation featuring 20 images that are timed to show for 20 seconds each, for a total time of six minutes 40 seconds.
You won't want to miss this popular event featuring outstanding presentations by your friends and neighbors:
Kristi Smedley
Galapagos
Eli Hosen
Food for All Ages
Neil Nelson
Trail Projects in PWC
Marty Nohe
Off-road Hiking with Kids
Kelly Jimenez
Eggscellent Chicken Tales
Cindy Smith
Flowers and Bugs Make the World Go Round
Caryn Stein
Snapping & Trapping in Prince William Forest
Charlie Grymes
Open Spaces and the Tri-County Parkway
Uriah Kiser
Government Island: A walk into monumental history
Julie Flanagan
Spring Warblers Coming Soon to a Neighborhood Near You
Sponsored by Lake Ridge Parks & Recreation Assoc. and Prince William Conservation Alliance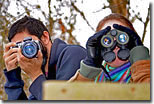 At the crack of dawn two days before Christmas, 40 volunteers fanned out across Nokesville and beyond to look for birds.
Birders at this year's Nokesville Christmas Bird Count saw clear skies and calm winds, with morning temperatures ranging from 20 degrees in the morning to a high of nearly 50 degrees.
Together volunteers identified 90 different species of birds and nearly 13,000 individuals.
Highlights of the day included American Tree Sparrows and a surprise showing of Evening Grosbeaks at the Foggy Bottom Wetland. Fourteen Northern Shovelers were visiting a private pond in Nokesville and two Screech Owls were spotted near Bristow Road.
At MCB Quantico, there was a solitary Common Loon and Red-headed Woodpeckers, which were also seen at the Cedar Run Wetland Bank.
Common Ravens were at the Cedar Run Wetland Bank and four Brewer's Blackbirds at a farm near Merrimac Farm Wildlife Management Area. In Fauquier County, birders were excited to see 32 Horned Lark and 12 Rusty Blackbirds.
Traditionally the Prince William County Landfill has the largest numbers of Bald Eagles and this year was no different. Birders counted 10 adults and 10 immature Bald Eagles, along with many gulls including 650 Ring-billed Gulls and three Great Black-backed Gulls.
European Starlings were by far the winner for the most individuals, with more than 2,300 included in the count. Canada Geese were also well represented, with more than 1,400 individuals, and we recorded more than 1,000 Ring-billed Gulls.
Species lists from previous Nokesville Circle counts are online here. The data collected by volunteers is sent to the National Audubon Society and used by researchers, conservation biologists and others to study the long-term health and status of bird populations across North America.
Read more about the Nokesville Christmas Bird Count, including maps and species lists, here.
Featherstone Refuge Update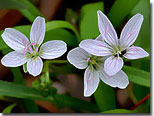 A starfish opens a clam by attacking its "feet" to the shell, then pulling steadily until the clam finally tires and the starfish succeeds in getting a meal.
That's the same strategy used by Prince William Conservation Alliance and others to get Featherstone National Wildlife Refuge opened to the public.
This natural area, 325 acres of forested wetlands, is located on the Potomac River next to Rippon Landing. The refuge has been closed to public visitation since it was acquired by the U.S. Fish and Wildlife Service starting in 1970.
There are no physical barriers blocking access to Featherstone; the bridge to the VRE platform already crosses the dangerous railroad tracks. However, CSX railroad lawyers still must authorize a trail across several feet of their right-of-way between the platform and the refuge.
County staff, Woodbridge District Supervisor Frank Principi and Congressman Gerry Connolly have all been nudging the legal process to closure.
In December, Prince William County committed to provide $2 million in additional insurance coverage beyond what VRE already carries for liability. A proffer associated with a development approval will fund building some new steps from the VRE platform to the ground.
So close, and still so far… Featherstone National Wildlife Refuge is public land – but the public can't get there from here, except by boat.
In 2011, the Washington Sustainable Growth Alliance (WSGA) highlighted the opportunity to open the refuge, making it a regional conservation priority. In the final 2011 Comprehensive Conservation Plan, the federal agency finally committed to allowing wildlife-dependent recreation.
Since then, the starfish have kept pulling on the closed shell to settle the final liability issues. Organized, steady steady public engagement can spur official action, over time. Perhaps in 2013, Featherstone National Wildlife Refuge will be fully open to public access.
Read the full article on Potomac Local here.