IN THIS ISSUE
Trees Planted at K9 Gunner Dog Park
Why Does Prince William Have a Rural Crescent?
Stream Stewards - November Programs:
Organic Matter in Streams & Rivers Talk
PWC Agriculture Lands, Streams & Buffers Walk
Stream Stewards Reviews by Kelly Moravec
Upgrading Aging Pipes & Ponds Talk
Stormwater Wetlands Walk
Monthly Bird Walk at Merrimac Farm
October 27
Many thanks to volunteers who made the October 5 Tree Planting at K9 Gunner Memorial Dog Park a success!
Albina Amagelo
Tom Attanaro
Lori Moore
Hope Bishop
Tamie Boone
Ginny Chapman
Kezia Christian
Willie Freer
Benjamin Dao
Michelle Dao
Katie Elgin
Willie Freer
Queran Freer
Rieke Freer
Lynda Fullem
Morgan Funkhouser
Jessica Giusti
Ennio Giusti
Charlie Grymes
Rachel Habig-Myers
David Hicks
Eli Hosen
Lenora Hussain
Janis Jackson
Jamie Leiggi
Devon Madigan
Kathy Madsen
Pete Madsen
Lee Marciniak
Elaine McCarthy
Patrick McNamara
Kelly Moravec
Kevin Parker
Caroline Peck
Thomas Peck
Cathy Ring
Noah Robles
Isabella Roccasecca
Aeliyah Sanders
Zac Sanders
Charles Sanders
Erica Sanders
Kaira Sanders
Lisa Sanders
Rebekah Scholl
Jessica Silveri
Phyllis Smith
Christopher Stallard
Shannon Starrunner
Samantha Starrunner
Bob Swan
Sara Tran
Nancy Vehrs
Emily Wallace
Marty Wallace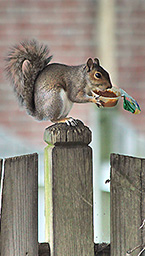 Good Natured Book Group - Save the Date!
When: Sunday, December 1, 3:00pm
Where: PWCA office, 2241-F Tackett's Mill Drive, lower level near the lake
Take a break and join us for a lively conversation about a great book.
The book for December 1 is The Forest Unseen by David Haskell. You can read more about the book and purchase it here, and it's available at the library.
We'll have treats and drinks and good conversation. Mark your calendar now, we hope you can join us for a fun afternoon.
Click here to read about last month's discussion on The Wild Trees: A Story of Daring and Adventure by Richard Preston.
Thursday, October 18, 11:00am
Sunday, October 27, 2:00pm
Where: Stone House at Merrimac Farm Wildlife Management Area, 15020 Deepwood Lane, Nokesville
Help create a four-season greenscape of native plants and a high quality area for families to watch wildlife.
For all work days, bring a smile and a shovel. We appreciate your help!

A free & easy way to support PWCA!
Enter Amazon.com through PWCA's "store" HERE and Amazon donates a % of your purchases to benefit local stewardship programs!
Greenlevel Cemetery Tour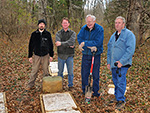 Leaders: Jeff Irwin and Bill Olson
Thanks to the efforts of Jeff Irwin, Bill Olson and Robert Moser, new headstones have been discovered and we know more about Greenlevel Cemetery at Merrimac Farm, although much is left to be discovered.
One tantalizing reminder of our limited knowledge came when a mysterious marker was discovered in recent work at the cemetery. In addition to the French gravestones, which are clearly the commercial product of skilled masons, a small fragmented red fieldstone marker was found with the initials "CTT" only. The identity and connection of this individual to the French family remains unknown.
Please join us on October 20, 2:00pm for a pleasant walk through the woods and a talk about the history uncovered to date. Read more...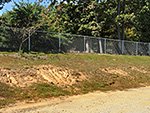 Before - 9/25/13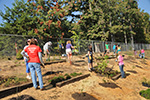 After - 10/5/13
On October 5 2013, more than 40 people turned out to plant trees, shrubs and flowers at K9 Gunner Memorial Dog Park.
Click here to view a fun 67-second video that compiles 1,660 photos taken at the tree planting, by Eli Hosen
Together we transformed the slope adjacent to the dog park. It was a tough job but fun to work with a great group of people.
This tree planting helps make our community more attractive, adds food sources for wildlife, slows the flow of stormwater runoff and filters nonpoint source pollution before it reaches streams.
Many thanks for project support provided by Prince William County Parks, Fairfax Water and Supervisor Mike May. Read more...
2013 Rural Crescent Study Update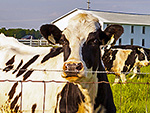 In May 2012, PWC Supervisors approved the Planning Office's proposed project to determine the "effectiveness" of the Rural Area and identify additional rural preservation strategies.
At the Oct. 15 Board of Supervisors Meeting, Planning Director Chris Price reported on the status of the Rural Area Preservation Study.
Mr. Price said the Planning Office was working to gather information, and making good effort to include citizen's in the process. They hosted one public meeting and a series of focus groups last August, and gathered information from responses to an online survey.
The next public meeting is planned for Saturday, December 7... save the date! Next steps include presentation of the study report to Supervisors followed by initiation of a Comprehensive Plan Amendment (CPA) to add/change references and recommendations relevant to the Rural Area.
These could better protect the Rural Area and create more effective planning tools to help manage sprawl development and its associated costs, or not. Time will tell.
In the meantime, read up on the Rural Crescent and invest a little time to help create a bright future in Prince William County. Read more...
Why Did PWC Create a Development Area & a Rural Area in 1998?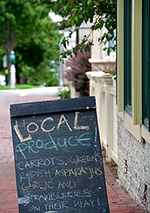 In 1998, Supervisors revised the 1990 Comprehensive Plan to encourage high-density development on major chunks of land along Linton Hall and Route 15. Expansion of the Development Area was intended to stimulate development of high-value "executive" homes.
Tax revenues from low-cost townhomes were too low. New residents had moved into those townhomes, crowding schools, congesting roads, and overwhelming the capability of first responders to provide basic public safety services.
By 1998, local elected officials were tired of increasing taxes to fund expansion of public services in Prince William. Voting for an increase in the property tax does not increase the popularity or re-election potential of county supervisors.
The 1998 Comprehensive Plan laid the foundation for minimizing property tax increases in the future by committing to concentrating new development in the Development Area.
New services would be built where the vast majority of the population lived. From a political perspective, that was smart. From a fiscal perspective, the new Comprehensive Plan was also smart, because it is more cost-effective to build new public facilities in a few places vs. scattering development randomly across the county.
By focusing development in the Development Area and limiting the extension of public services to the Rural Area, supervisors could minimize the need to increase property taxes to support the county's increasing population. Read the full article...
Stream Stewards in November - Save the Dates!
Organic Matter in Streams and Rivers Talk
with Jake Hosen, University of MD
Thursday November 7
Bull Run Unitarian, 9350 Main St., Manassas
Please join us to learn about the complex food webs of streams and how the stream in your backyard is linked to global carbon cycles and climate change. Read more...
Agricultural Land, Streams and Buffers Walk with Jay Yankey, PW Soil & Water Conservation District
Saturday, November 9, 10:00am
RSVP to alliance@pwconserve.org for meeting location.
On the tour we'll compare buffers that have been established for years with some that are recently completed. We'll also showcase incentive programs available to landowners interested in restoring agricultural buffers. Read more...

Stream Stewards Reviews
A Brief History of Stormwater Management
Review by Kelly Moravec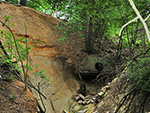 On September 5, Bel Pacchai, Environmental Engineer with Public Works Watershed Management Branch, presented a fascinating exploration of pipes and ponds in older communities, and led a lively discussion on the history and impact of stormwater management in Prince William County.
Mr. Pachhai described how communities are learning from mother nature and evolving towards a "green" infrastructure approach, where new developments are expected to reduce impervious area, cluster development and create rain gardens to reduce the volume of rainwater run-off.
Many developments (not subject to the new regulations) mostly use ponds for stormwater management. There are an estimated 1,500 ponds in the county!
Various options are available, such as raising embankments, enlarging the footprint, providing micro pools and permanent pools with shallow marsh emergent wetlands. All, usually used in combination, provide more time for water to stick around in the area and create a winding path to the outlet pipe. Read the full article...
---
Stormwater Wetland Walk
Review by Kelly Moravec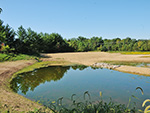 Last year, the county selected Pond 494, in the Broad Run Watershed by Mullen Elementary School, as an ideal location for their first constructed wetlands project.
Before retrofitting into a constructed wetlands, this 3.8 acre area was an extended dry detention pond – basically, a grassy area with a pipe.
The constructed wetland uses pools, berms, pipes, and a spillway to lengthen the flow path to create a low water area, which helps increase the time water is in the area. Because the area is large, the project team was able to also create a winding path for the water.
In addition to better managing stormwater, this new wetland will provide new habitat for local wildlife and improve the appearance of the surrounding area.
The estimated cost of the project is $80,000, which was funded by the county's stormwater fee. Residential and commercial property owners pay this fee on their bi-annual real estate bill: $37.10 /year for single family homes, $27.85/year for townhomes, and $18.02/1,000 sq. ft. for commercial development. Read the full article...