IN THIS ISSUE
Wildlife and Deer Management Public Meeting
Bluebell Festival at Merrimac Farm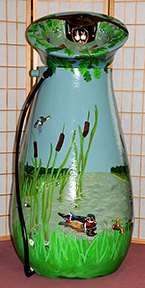 Wow! Local artist James Gallagher has outdone himself again this year with another hand-painted rain barrel.
Will you be the winner of this years raffle and add a touch of art to your yard?
Raffle tickets are $5/ea or 5 for $20. You do not need to be present at the drawing to win.
Email us to purchase tickets or stop by the Spring Fling this Saturday, tickets will be available and the rain barrel on display.
Barred Owls
by Steve Tabone

Last weekend, I took my kayak out of winter storage and went in search of the Barred Owls that live across the lake in a wooded area surrounding a creek that flows into the lake.
I was able to photograph them several times last year, but I had not seen or heard them for several months. Barred Owls do not migrate, but may wander from their nesting territories when prey is scarce, for example when snow is deep.
As you can see from the images in this article, I found the pair of Barred Owls. Keep reading...

It was one of those March days when the sun shines hot and the wind blows cold: when it is summer in the light, and winter in the shade.
- Charles Dickens
PWCA
703.490.5200
pwconserve.org
Spring Fling!
A Celebration of Earth Day and all things green!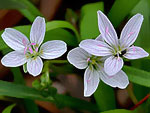 When: Saturday, March 29, 2014
Where: 10 a.m. to 2 p.m. at Tackett's Mill Shopping Center in Lake Ridge. Join us on the lower level at the lakeside near the old mill.
Special tours on trees, water protection and purple martins, plus a native plant planting! Enjoy educational displays, games, crafts and meet local organizations working to improve our community and how you can help.
Click HERE for more information on activities and participating groups. Questions? Call PWCA at 703-490-5200 or PWC Public Works at 703-792-6819.
Virginia Scenic Byways Talk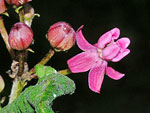 When: Thurs., April 3, 7:30pm
Where: Bull Run UU Church, 9250 Main Street, Manassas
Welcome remarks by Supervisor Peter Candland, Gainesville District with speakers:
Lynn Crump, RLA, Env. Programs Planner, VA Dept. of Conservation & Recreation


Fulton deLamorton, Local Assistance, VA Dept. of Transportation
Scenic Byways tie landscapes together and connect people to the culture, history and natural resources of a particular place. As such, the presentation of the Virginia Byways program will cover: why byways are important, what qualifies for a byway and how to get a road designated as a byway.
In Prince William County, Waterfall Road has been proposed for designation as a Virginia Scenic Byway. Please join us for an informative presentation and community discussion of the benefits of this program.
Wildlife and Deer Management Public Meeting
When: March 31, 6:30 to 8:30 pm
Where: Chinn Park Library Community Room, 13065 Chinn Park Drive
The meeting is hosted by Occoquan Supervisor Mike May. It's open to the public and will feature presentations from:
Kevin Rose, Virginia Department of Game and Inland Fisheries (DGIF)


Charles Smith, former Natural Resource Management and Protection Branch Manager for Fairfax County Park Authority and a member of the Prince William Wildflower Society and Prince William Conservation Alliance.
Able to thrive in suburban landscapes and released from hunting pressure, white-tail deer pose a significant threat to our remaining natural areas by over browsing - eliminating hundreds of native plant and animal species.
Attend to learn more about how deer populations grow, and affect landscapes and habitat for songbirds and other wildlife. Bring your questions!
Wildlife Garden Workdays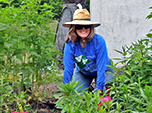 When:
Tues, April 1, 9:00 am-noon
Tues, April 9, 9:00 am-noon
Sat, April 27, 10 am-1 pm
Where: Stone House at Merrimac Farm, 15020 Deepwood Lane, Nokesville
This four-season greenscape of native plants is creating a high quality area for families to watch wildlife in a public area that is easy to access. Workday tasks include planting, weeding, mulching and removing invasive plants. For all work days, bring a smile and a shovel, if available. We appreciate your help!
Bluebell Festival at Merrimac Farm
Sunday, April 13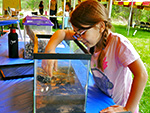 When: 10am to 4pm
Where: Stone House at Merrimac Farm WMA, 15020 Deepwood Lane, Nokesville, directions
Please join us to welcome spring and view the spectacular display of Virginia Bluebells that carpet the floodplain along Cedar Run for nearly a mile.
The Bluebell Festival includes a series of tours led by naturalists from local groups, including the NoVA Bird Club, PW Wildflower Society, PWC Forest Pest Management, Friends of Potomac River Refuges and others.
Each tour has a special focus. They last about 90 minutes and take an easy one-mile walk through the floodplain, along the Cedar Run shoreline where the Bluebells grow.
Click here for the tour schedule.
We hope to see you at Merrimac Farm on April 13. Bring binoculars, cameras and the kids!
When: Sun., March 30 & April 27, 8:00am
Where: Meet at the Stone House, 15020 Deepwood Lane, Nokesville
We'll look for birds as we travel through the uplands to the edge of the floodplain, covering a variety of habitats, including open fields and woodland edges. Everyone is welcome. Click here to view the bird list for Merrimac Farm.