It's been a rewarding year for Prince William Conservation Alliance (PWCA)! Thanks to the generous support of people like you, we have expanded our stewardship programs and continue to serve more people every year. Your donations directly support Prince William Conservation Alliance programs.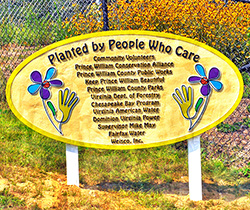 We are asking for your help. Please consider making a generous gift today to continue our work into 2015 and beyond.
Here are some accomplishments from this past year that you have made possible with your generous gifts:
At our Buffer Restoration at Minnieville Road, by K9 Gunner Dog Park, your contributions helped plant several hundred native trees, shrubs and groundcover in the buffer between the park and dry stormwater pond.
We created new wildlife habitat and a more scenic Prince William. And we're not done yet – this coming March we will be back to plant the last segment and hope you can join us!
At Merrimac Farm Wildlife Management Area, our Wildlife Garden had its first season to shine this year. The several hundred trees, shrubs and wildflowers planted over the past couple years are becoming established and they looked beautiful this past summer.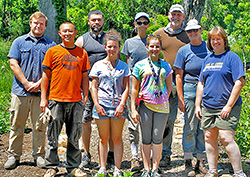 The Wildlife Garden is creating habitat where high quality plant communities are attracting a diversity of butterflies, birds, and a host of beneficial insects, the favorite food source of many animals.
Watch for news of our garden party in late spring, planned especially for our members!
Your support has also helped us attract in-kind donations and grants to fund these and other stewardship projects from a variety of sources, including Fairfax Water, Virginia Dept. of Forestry, Virginia American Water, EarthSangha, Wetland Studies & Solutions, and others for these and other projects.
The coming year offers both opportunities and challenges. Prince William's ongoing Rural Crescent Review is approaching the two year mark. The outcome of this effort could reinforce smart growth benefits - or open the door to the suburbanization of our rural area, placing farmland and green open space at risk while increasing taxes for property owners across the entire county.
We will be working hard to support effective policies that protect the countywide benefits provided by the Rural Crescent and keep you informed on new proposals.
We will continue our great citizen science activities, including the Christmas Bird Count Nokesville Circle on December 28th, bluebird trails, and pollinator counts in the spring.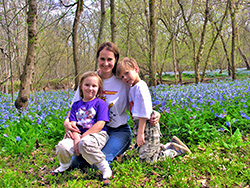 Mark your calendar now for the 2015 Bluebell Festival on Sunday, April 12th. Interpretative tours led by our members and supporting organizations highlight local wildlife and habitats along the trail to Cedar Run, where Virginia Bluebells carpet the shoreline.
It's been a good year! We could not have achieved all we have done without your support.
Please make a tax-deductible donation to help us end the year on a high note. You can make a secure credit card gift by clicking on Network for Good. Checks are also welcome at Prince William Conservation Alliance, PO Box 6351, Woodbridge, VA 22195.
Thank you for your thoughtful and substantial support for the Prince William Conservation Alliance! We wish you and your family a holiday season filled with joy and peace.