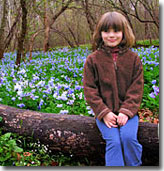 April 12, 2015, from 10:00am to 4:00pm, at the Stone House at Merrimac Farm, 15020 Deepwood Lane, Nokesville, directions
Please join us to welcome spring, celebrate nature close to home, and view the spectacular display of Virginia Bluebells that carpet the floodplain along Cedar Run for nearly a mile.
With some of the best Northern Virginia naturalists leading tours and activities, we're looking forward to a special day at an outstanding natural area. We hope you can join us.
Schedule of Events
Ongoing activities shown on right column, nature tours below
Tours last about 90 minutes and take an easy one-mile walk through the floodplain. Each tour has a special focus, although leaders will cover other interesting sights you encounter along the way. Bring binoculars, cameras and the kids!
10:30 am
Dave Larson
NoVA Birder
Birding the Bluebell Trail
10:50 am
Ernie Sears
PWCA
Visit the best places for photos with camera and guide
11:10 am
Charlie Grymes
PWCA
The story of Merrimac Farm
11:30 PM
Charles Smith
PWCA, PWWS
Native plants, interaction with wildlife, role in the floodplain environment
11:20 PM
Harry Glasgow
PWCA, PWSWCD
Birding the Bluebell Trail
11:40 PM
Jeff Irwin, Bill Olson & Robert Moser
PWCA, Historic PW
History in the woods at the Green Level Cemetery
12:00 PM
Larry Meade
NoVA Bird Club
Things that fly -- Birds, butterflies and dragonflies
12:20 PM
Kevin Rose
VA Dept. of Game & Inland Fisheries
Managing habitats for wildlife diversity
12:30 PM
Julie Flanagan
PWC Arborist

Native trees and forest ecosystems
12:50 PM
Kevin Parker
PWCA
A home for every bird
1:15 PM
Jim McGlone
VA Dept. of Forestry
Why urban forests matter
1:35 PM
Missy Hawkins
PhD Candidate, GMU
Scat, Tracks and Other Signs of Mammals
1:55 PM
Dr. Larry Underwood
GMU
Forest Ecosystems
2:15 PM
Randy Streufert, Friends of Potomac River Refuges
Photographing Wildlife in the Wetlands
2:35 PM
Jeff Irwin, Bill Olson & Robert Moser
PWCA, Historic PW
History in the woods at the Green Level Cemetery
2:55 PM
Nancy Vehrs
Woodland wildflowers and other native plants
3:15 PM
Judy Gallagher
PWCA, VA Master Naturalists
Bees & other pollinators that make wildflowers possible