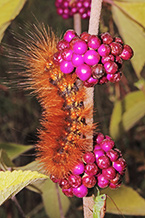 Even if I knew that tomorrow the world would go to pieces, I would still plant my apple tree.

Martin Luther King Jr.
Merrimac Farm Bird Walk
Sunday, February 28, at 8am. Meet at the Stone House at Merrimac Farm, 15020 Deepwood Lane, Nokesville
Everyone is welcome. Dress for the weather, bring binoculars and cameras.
RSVP to PWCA at 703.499.4954 or alliance@ pwconserve.org.


2016 Bluebell Festival
Save the Date!
Please join us to welcome spring and view the spectacular display of Virginia Bluebells that carpet the floodplain along Cedar Run for nearly a mile.
Naturalist-led tours, each with a special focus, follow an easy one-mile walk through the floodplain.
Local groups will lead activities for children of all ages and share information on local opportunities.
Bring binoculars, cameras, and the kids, and join us for a day of fun!

The Merrimac Farm Virginia Master Naturalist Program, beginning on April 10th, is a fun way to learn about nature close to home and meet new friends.
Interested people become Certified Virginia Master Naturalists through a combination of training and hands on volunteer service.
Master Naturalists are people with a thirst for knowledge of the world around us paired with a commitment to service to preserve, and protect our environment.
More information is online here or email merrimacfarmVMN @gmail.com.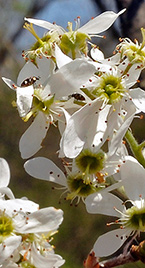 Creating Davis Ford Road Park Talk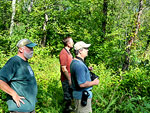 Wednesday, March 2, 7:30pm at Bull Run Unitarian Universalist Church, 9350 Main St, Manassas.
Meet us for dinner before the program, details below.
Speakers:
--Mike May, Occoquan District Supervisor 2007-15.
--Martin Jeter, MidCounty Civic Association President
--Ann Stampf, Occoquan Forest Owners Association President 2009-15
The story begins in 2005 when Prince William County Schools submitted a Public Facilities Review application to build a new school on the 58-acre property at 5901 Davis Ford Road, public land owned by the Service Authority. Today, thanks to the long-term efforts of local communities, this property is slated for use as natural area parkland.

Please join us on March 2 to hear the story of Davis Ford Road Park told by some of the people whose leadership helped protect green open spaces in Prince William. Bring your stories to share. Read more...
Meet us for dinner before the program, 6pm at a restaurant in Old Town Manassas! Please RSVP to alliance@ pwconserve.org, 703.499.4954. The restaurant selection depends on how many people will be there.
Update: Proposed School at Chinn Park
Prince William County Schools proposal to build a new school at Chinn Park in Lake Ridge has met with significant opposition from residents, civic groups, environmental organizations, homeowner associations, and others.
People are concerned about the loss of parkland, green open space, and trail networks as well as environmental impacts and traffic issues. With opportunities to build up, co-locate schools, and re-use empty/underused commercial space, residents believe we can have both parks and schools.
As the result of obvious and widespread community opposition, ten days ago Prince William County Schools promised local organizations and the Occoquan District Supervisor that they would withdraw their application for Chinn Park by February 19.
Sadly, as of today, February 24, Prince William County Schools has failed to honor their commitment. Although withdrawal requires only a simple letter to the Planning Office, school staff now claims they are too busy to work on this project at this time.
Please click HERE to share your views with Prince William County School Board members. Read more HERE.
Walking Tour - Manassas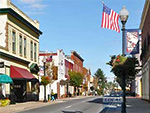 Sunday, February 28, 1-2:30pm. Meet at Manassas Railroad Station, 9451 West St, Manassas
There is good news: they're doing land use planning the right way in downtown Manassas, in contrast to proposals for converting the Rural Area into suburban sprawl.
Come walk around and see the success of "smart growth" tied to transportation planning, and consider the potential for similar successful development elsewhere in the area. We'll stop for appetizers and drinks after the walk.
One hour tour, ends at 2:00pm and continue discussion at a warm coffee shop. RSVP and more information to alliance@pwconserve.org, 703.499.4954
Neabsco Creek Watershed Study Public Meeting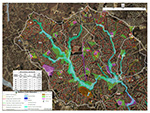 Thursday, March 10, 2016, 6-8pm, at Chinn Park Library, 13065 Chinn Park Dr., Woodbridge
Prince William County Watershed Management is beginning work on a Watershed Study for Neabsco Creek. The study will assess stream conditions and stormwater management facilities in the upper portions of the watershed, subsheds 805, 810, 815, 820, and 825.
A primary goal is to identify and prioritize funding for restoration projects needed to meet Chesapeake Bay clean up requirements. Find out more and share your views at a briefing about issues and opportunities to protect clean water resources in the Neabsco Creek Watershed.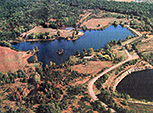 Sunday, March 13, 1-2:30pm at Silver Lake Park, Silver Lake Road, Haymarket
If you have visited Silver Lake Regional Park in Haymarket recently, you will have seen the dam rehabilitation project. Like all construction projects, it is aesthetically – well, to be blunt, it's ugly right now.
Although PWC has been known at times to bulldoze first and check for natural resources after the fact or not at all, in this case the reshaping of the landscape is essential.
The 29-foot high earthen dam at Silver Lake is classified as having High Hazard Potential and must be reconstructed to conform to Virginia's Dam Safety Regulations, so a heavy storm will not cause the dam to break and flood homes downstream.
With a price tag of $2.5 million, work on the Silver Lake dam is expected to be completed in June 2016.
Currently, the lake has been temporarily lowered in order to construct needed control structures and provide additional storage to prevent flooding. While there are concerns about impacts to aquatic life, the lowering of the water level during the winter months is intended to help minimize those impacts. Check the next issue of our e-zine, cpwtoday.com, to learn more.
Bluebird Trail Volunteers Needed!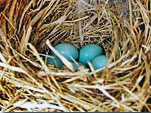 Volunteer Training Dates:
Chinn Park: Saturday, April 2, 1:30 - 3:30pm
Merrimac Farm WMA: Sunday, April 3, 12:30-2:30pm
Veterans Memorial Regional Park: Sunday, April 3, 4:00pm-5:30pm
RSVP to alliance@pwconserve.org, 703.490.5200
Thanks to the many people who install and tend to nesting boxes, Bluebird populations are growing. In order to keep this up, we need volunteers to help monitor Bluebird Trails at three local parks.
This is a great activity for families. It takes about 90 minutes to cover an entire trail... unless you notice interesting things along the way and stop for a closer look!