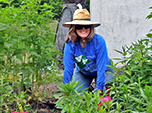 It's been a great year for Prince William Conservation Alliance (PWCA). Thanks to the generous support from people like you, our programs continue to advance stewardship goals and served a record number of people in 2016.

Our activities show our commitment and demonstrate the benefits of sustainable communities. Your contributions restored habitats, protected smart growth policies, and created opportunities for people to get involved in building a brighter future.
We created a public wildlife garden at Merrimac Farm Wildlife Management Area (WMA). It's a great place to watch wildlife and discover how incorporating native plants into our personal landscapes restores wildlife habitat, improves water quality, and creates attractive communities. Look for our Annual Member Garden Party this coming summer for a native plant tour at the height of the season.

PWCA actively supports smart growth planning, such as the Rural Crescent, and conservation-friendly public policies, such as Purchase of Development Rights programs. We work to prevent environmental impacts and support efforts to better address environmental violations.
Thanks to considerable community support, we protected a working farm outside Haymarket, in the Rural Crescent, from VDOT plans to build a parking lot.
Following this success, we initiated a positive effort to secure Virginia Scenic Byway status for Rural Crescent roads, including Antioch, Bristow, Aden, and Joplin Roads.
Highlighting our scenic byways is an inexpensive and forward-looking way to showcase Prince William's unique assets, promote tourism, protect open space, and build a bright future for County residents.
On November 22, Supervisors unanimously voted to support the Scenic Byways designation. Look for a ribbon cutting in early spring when the signs go up!

PWCA initiates restoration projects, sponsors talks and walks, and public forums to ensure community participation in community decisions. Read our newsletter, check our online calendar, email alliance@pwconserve.org or call 703.499.4954 for more information.

And please join us for our next Open House on Monday, December 5, beginning at 5:30pm. We'll be talking about forested parkland and the new school proposed by Chinn Parkland with special guests Supervisor Ruth Anderson, Prince William County Schools David Beavers, and Sycamore Ridge Homeowner Association President Rob Carswell.

Our successes this year are directly due to your generous support. Please consider making your year-end gift to PWCA today. Click here to donate online now and click here for our mailing address.
Thank you for your great generosity--you make all the difference! Happy holidays to you and your family.