Rural Crescent Forum: Exploring the Path from Sprawl to Sustainability
More than 100 people participated in our March 7 2019 forum at Northern Virginia Community College, Manassas Campus. The topic was smart growth planning, urban growth boundaries, and the role of Prince William's Rural Crescent in land use planning.
The forum provided an important opportunity for residents on both sides of the issue to learn more and also openly discuss their views and goals with residents (stakeholders) who live in Prince William County communities.
Speakers Mike May and Tom Eitler agreed that it is important to preserve the Rural Crescent, which is an urban growth boundary that offers many benefits. For one, it allows the county to focus infrastructure improvements where they are most cost effective, bolster redevelopment goals, attract jobs, and build sustainable, attractive communities. Mr. May noted that, if we open up the Rural Area for increased development, we risk losing economic development opportunities in Eastern PWC.
Our development and rural areas are linked; the success of one depends on the success of the other. The Rural Crescent allows the county to focus our public invest on infrastructure to incentivize mixed communities, as proposed in the Strategic Plan, and meets the developer halfway. Speakers also agreed that this smart growth approach can help Prince William improve our reputation at local, regional, and national levels.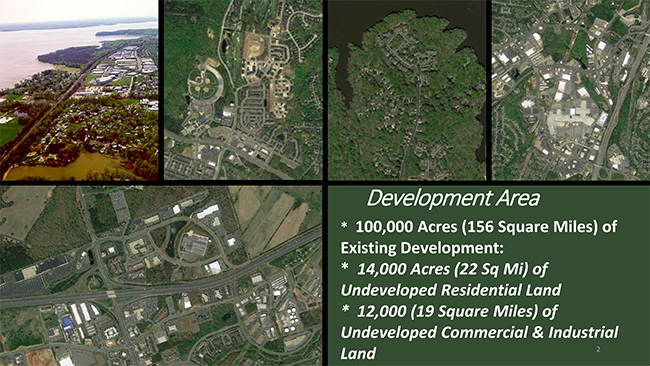 The speakers agreed concerns that Prince William is running out of land in the development area are not realistic. At the same time, we need to recognize that, while the benefits are significant, infill and redevelopment is more difficult than greenfield development:
Requires commitment from County elected officials & staff, and citizens
Must include real incentives: Priority processing density bonuses, Strike team for community engagement, reduction in on off-site improvements & dedicated capital funds to fill the gap.
Start small - Get some successful examples under your belt Prince William also needs to recognize the growing need for artisanal and unique agricultural uses.
Mr. May pointed out industries that are not on the county's targeted list could bear watching, including agri-business and agri-tourism. The 2004 Rural Preservation Study suggested that the county might want to have staff examine the two business sectors and suggest strategies to grow those sectors of the economy
At the forum, the owner of Burnside Farms spoke to the opportunities that expanding our vision can create. As an example, she used her farm, located in the Rural Crescent, which grows more than a million tulips and daffodils each year and is home to one of the largest pick-your-own flower events in the world.
Mr. Eitler's presentation recognized that there is no obligation under current law, no obligation under county policy, and no requirement from a fairness perspective to guarantee large property owners a retirement nest-egg from their property. 450,000 citizens of this county don't own large land holdings and should not be expected to have their tax dollars used to ensure infrastructure and services in rural areas.