Comprehensive Plan Admendent 2018:
Mid-County Park & Estate Homes Proposes Increased Densities and Access to Public Sewer for the Rural Crescent
In 2011, Prince William Supervisors voted to remove 180 acres from the Rural Crescent with their approval of the Avendale development, which increased the allowed new homes from 12 to 395.
Immediately after, Supervisors claimed this was due to unique circumstances created by the realignment of Vint Hill Road and unanimously voted to approve Chairman Stewart's motion to reaffirm their support of the Rural Crescent.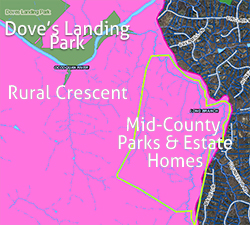 Now, Supervisors are once again being asked to consider removing nearly 150 acres from the Rural Crescent, located between Bristow Road and Rte 234, at the end of Classic Lakes Way.
On March 6, 2018, the Board is expected to vote on whether or not to initiate the Mid-County Park and Estate Homes development proposal, which would:
Increase residential densities by more than 300%, from approximately 32 to 108 new homes.

Extend public sewer into the protected rural area, the only tool locally available to prevent higher density developments from leapfrogging through the Rural Crescent.
In exchange, the application proposes to create a 195-acre linear park, which would use much of the unbuildable land to form an isolated ring around the new residential community.
If Supervisors vote to initiate Mid-County Parks and Estate Homes, Planning staff will begin review of both the CPA and an associated rezoning application, which has already been submitted.
The developer claims that approval of his CPA request is justified because:
It would be consistent with the Rural Preservation Study.
In Reality: The Study has never been endorsed by the public, Planning staff, or Prince William Supervisors. It is a four year old plan that's been sitting on a shelf.


It would be consistent with the surrounding development and land uses.
In Reality: The Mid-County Park and Estate Homes site is within the Rural Crescent, not the Development Area. This proposal would more than triple the low-density development (1 home/10 acres) planned and zoned for this area.


It would be consistent with the land use designation for the property prior to 1998.
In Reality: In 1998 Supervisors made a conscious decision to change land use designations – property taxes were increasing too fast and voters were demanding a more cost-effective way to provide public facilities. Building new schools, libraries, etc. near areas zoned for higher densities (development area) results in lower costs, plus increased services to residents.
Mid-County Parks and Estate Homes is an isolated proposal, a stand-alone exercise that conflicts with the Comprehensive Plan. It is also disconnected from the County's small area plans, which are intended to coordinate land use changes to achieve a better result.
If approved, Mid-County Parks & Estate Homes would expand suburban sprawl into the countryside, damaging the Rural Crescent as well as the county's capacity to provide adequate schools, parks, and transportation improvements. It would challenge the County's capacity to keep taxes low and hinder efforts to advance sustainable, live-work-play communities.