PWCA Honors Conservation Heros!

2018 Nature Champion Award - Jim Waggener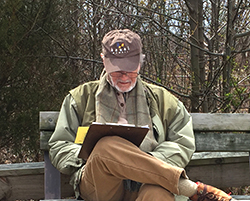 Jim Waggener is an inspiration to us all. For more than 30 years, he has led wildlife surveys in Prince William and surrounding areas. Thanks to the surveys, Jim knew the former Harry Diamond Lab was a high quality high diversity natural area.
After the Army closed the site, Jim led the successful community effort to protect the property as the Occoquan Bay National Wildlife Refuge. Today this Refuge is an important spot of green in a densely developed area and an important part of Northern Virginia's network of natural areas.
Jim's surveys are valuable for many reasons. They use a standardized protocol to document high quality habitats as well as changes to species diversity for birds, butterflies, and plants. For butterflies, Jim has the 2nd longest running survey in the U.S., with data that shows the long term effects of land uses and climate change.
Jim helps groups design protocols for other new surveys. His education activities introduce residents to nature close to home and communicate the value of protecting high quality habitats. Jim's enthusiasm and knowledge has encouraged generations of naturalists of all ages.
2018 Heart of Gold Award - Nancy Vehrs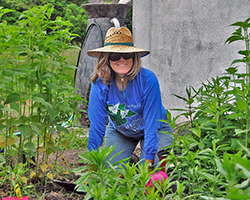 Nancy Vehrs, a life-long resident of Prince William County, is a tireless advocate for green open spaces. Thanks to her efforts, Prince William County adopted Virginia Bluebells as the official County flower. Nancy was important to the publication of the Virginia Flora, the first comprehensive reference work on the native and naturalized plants of Virginia.
Nancy serves on the Board of the Upper Occoquan Service Authority. As President of the statewide Virginia Native Plant Society (VNPS) and Chair of their Prince William chapter, Nancy focuses on promoting the use of native plants for home and commercial landscaping. She also leads weekly bird walks, has been a team leader at the Nokesville Christmas Bird Count since 2008 and leads a sector of the Manassas Butterfly Count.
Nancy's activities directly benefit many hundreds of people. She provides programs for students, leads nature tours and citizen science surveys, provides presentations for homeowner and civic groups, collaborates with government parkland managers, and meets with elected officials. Her on-the ground restoration activities create opportunities for people to give back to their community and learn a lot in the process.