Trees on Tap - Grow Smart Prince William with Tom Eitler, Urban Land Institute
June 25, 2019 at Water's End Brewery, Dillingham Square, Woodbridge. Click here for the Rural Crescent page.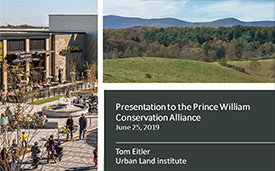 Approximately 70 people joined us on June 25 for Trees on Tap, Grow Smart Prince William with Tom Eitler at Water's End Brewery. Click on the image to view the presentation.
We were delighted to see so many people, including County residents and local candidates participating and sharing good ideas. We're planning a couple follow up sessions that will us local examples to explore development and re-development opportunities, and rural business potential.
Tom's presentation fostered a greater understanding of how planners approach community design and introduced useful concepts that are generally not considered in Prince William.
We heard about opportunities for agri-business and other businesses that won't feed residential densities and can help attract economic investments. We discussed the need for the County to better understand the land economics that influence the Rural Crescent.
In the development area, there is more than enough capacity to handle projected growth in areas where there is existing infrastructure and mobility opportunities. We recognized that redevelopment and infill for underperforming properties is the real opportunity in the development area.
Continuing to rely on automobiles won't solve traffic issues and won't attract millennials' or the Z generation, who are looking for a wide range of mobility options, from bikes to transit. Our goal is to create sustainable live-work-play communities where people don't have to travel to Fairfax and beyond to work and play.
This program was sponsored by Prince William Conservation Alliance, a nonprofit organization working to connect people to nature, increase understanding of the community and economic values of conservation, and encourage action to advance smart growth policies.
Our Trees on Tap series is free of charge thanks to donations from Prince William citizens. Our capacity to provide high quality presentations and stewardship programs relies upon community support. Please consider donating safely online here or at PWCA, PO Box 6351, Woodbridge, VA 22195.