Buckland Bypass Concept
also referred to as the Gainesville Bypass or the Vint Hill Connector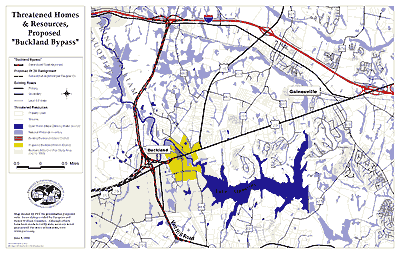 Buckland, located along Broad Run, is a picturesque example of the region's 18th and 19th century mill towns.
This area, threatened by encroaching development, is historically significant and merits protection. Buckland Village is already on the State and National Registers of Historic Places. We understand efforts are underway to nominate the "Buckland Races" battlefield and Buckland Farm to these Registers, and we applaud these efforts.
PWCA is very concerned that discussion of protecting Buckland seems to be focused on building a major new road around it. The current idea suggests that diverting traffic to the perimeter would protect the historic district.
As we can see at Manassas National Battlefield Park, perimeter road construction does little to enhance the quality of cultural resources. And it does not guarantee that the traffic impacts of Route 29 will be lessened. This strategy could be counterproductive to Buckland preservation efforts over the long run.
A new road would add considerable development pressures to the area just west and north of Buckland, degrading the rural environment surrounding it. In addition, such a road and attendant development would have a significant impact on Broad Run and its adjacent wetlands, which feed into Lake Manassas, a major drinking water supply.
Furthermore, it is unlikely that such a road would relieve pressure on Rt. 29 for long. Transportation studies repeatedly demonstrate that "induced demand" leads to more vehicle trips when new capacity is added. This will fill up the new road as well as Rt. 29. These impacts should be comprehensively reviewed and considered.
The long and the short of it, however, is that there's no money in the foreseeable future for the roads that are planned much less one that's not on VDOT's list. Efforts that focus on ways to reduce impacts from existing traffic could help. VDOT is scheduled to begin the public process for the realignment of Vint Hill Road at Route 29 to the edge of Buckland Farm (rather than through the Farm) this coming October, which will improve sighting at the intersection, help traffic flow more smoothly, and lessen the impact on Buckland.
In our view, conservation easements are a practical opportunity and would be an effective next step in protecting Buckland. In addition to protecting the land's historic and conservation values, conservation easements provide financial benefits to landowners and strengthen broader preservation efforts.
The Prince William Conservation Alliance supports protection for the Buckland Historic District. Preservation goals focus on the future. A focus on long-range goals that consider regional connections and impacts can protect historic resources over the long run. We hope the PW Historic Commission actively supports conservation opportunities at Buckland. However, we urge you not to endorse proposed road changes without further studying their potential impacts on the region, including Buckland.
Return to top
Timeline

This timeline includes information that is available online and may not be complete.
November 24, 2009
The Buckland Bypass is Dead for Now
November 3, 2006
Buckland/Gainesville Bypass Study Draft Report released.
June 6, 2006
Prince William County Board of Supervisors Resolution 06-557 Approve County/State Project Administration Agreement for the Buckland/Gainesville Bypass Feasibility Study. Motion Barg, Second - Covington. Includes report on purpose and need, study parameters.
March 21, 2006
Prince William County Board of Supervisors Resolution 06-287 Transfer, Budget and Appropriate $100,000 in Transportation Proffer Interest for the Buckland/Gainesville Bypass Feasibility Study. Motion - Covington; Second - Nohe
March 24, 2006
Directive 06-43: Chairman Connaughton requests staff response to a letter from Delegate Marshall on the Buckland Bypass, including his concerns that Fauquier County is not moving forward on this issue.

January, 2006

Legislative Amendments [page 708]
Chief Patron: Marshall R.
Item 443 #21h Transportation; Department Of Transportation

Language: Page 378, after line 47, insert:
"E. Out of the funding provided for highway system acquisition and construction in this item shall be provided such funds as are necessary, estimated at an amount not to exceed $2,800,000, to conduct an environmental impact study of the construction of a bypass connection at Interstate 66 in Prince William County with U.S. Route 29 in Fauquier County in the vicinity of Gainesville , Virginia."

January 3, 2006

Prince William Board of County Supervisors Meeting

DIR 06-07 Connaughton (R) At Large: Joint Meeting – Buckland Alternate 29; Chairman Connaughton requested staff schedule a joint meeting with Fauquier County regarding the study initiative for the Gainesville Bypass/Buckland Alternate 29.

January 10, 2006

VDOT Monthly Briefing for Prince William County

D. Rt. 29 Pre-Nepa study of Buckland bypass (Gainesville/Brentsville)
*$100,000 allocated in Six Year Improvement Plan.

November 10, 2005

Fauquier County Board of Supervisors Work Session
Resolution To Establish A Working Group To Examine The Potential For A Buckland Bypass With Prince William County

October 5, 2005

Prince William County Board of Supervisors Meeting
Item 9C - Establish a working group to establish potential for Gainesville/Buckland Bypass with Fauquier County (Connaughton (R) At Large)

July 12, 2005

Prince William County Historical Commission Meeting
Chairman Duley reported she spoke with BOCS Chairman Connaughton's office and understands that the Commission can endorse historical issues regarding Buckland but should not participate in discussions regarding transportation issues.

June 24, 2005

VDOTs Six Year Plan includes funding to study the Buckland Bypass
One of the smaller allocations in the plan is $100,000 for the Buckland Bypass. The bypass a longstanding but mostly theoretical plan to divert U.S. 29 traffic around Buckland. While Buckland residents support the bypass, conservation groups oppose it. … The $100,000 is essentially seed money that will allow Prince William and Fauquier counties to launch a preliminary study into the feasibility of a bypass. Stirrup said that early indications are that the road, if built, would be only a mile or two long and would loosely follow the current path of Thoroughfare Road . [Source: Gainesville Times; June 24 2005]

January 6, 2005

Minutes Of Fauquier County Transportation Committee
11. Discuss Transportation Meeting With Prince William County Representatives

Bill Downey and Harry Atherton attended a very positive 'information sharing' meeting with Prince William County Representatives. Prince William is looking for commitment from Fauquier regarding US 29 and improvements to Route 28.

Prince William appears to want to bypass Gainesville, realign US 29 via the "Buckland Bypass" and construct the bypass thru Fauquier with no commitments to limited access.

Fauquier is not interested in discussing the issue any further if there is a possibility of access to this spur. Prince William has acknowledged that this is a regional issue, not just an issue caused by Fauquier County.

ACTION: Conversations between both counties are planned to continue.

July 27, 2004

Prince William County Board of Supervisors Meeting

DIR 04-138 Supervisor Covington requested staff to conduct a mini-study on the previouslyproposed Buckland bypass.


June 8, 2004

Prince William County Historical Commission Meeting

PWCA Comments on the Prince William County Historic Commission Proposed Resolution Regarding the Buckland Bypass Concept.

May 7, 2004
Representative from Prince William County Planning attends a charette at Buckland Farm to assist in preparing a strategic plan for the study and preservation of Buckland.
April 24, 2003

Citizens Advisory Board Meeting #3, Minutes
3. New Alternative - Vint Hill Connector This proposal, which is know as Concept 3B, was raised in public comments coming from the Dec. 12 public meeting. It was discussed at a previous Technical Working Group meeting and has been analyzed to bring it up to the same level as the other concepts. ... It was recommended that this concept be eliminated from further consideration as part of the MNBP study . [ pages 2-3 ]

March 31, 2003

Manassas National Battlefield Park Bypass Study, Public Comments

Congressional representatives Tom Davis and Frank Wolf signed a letter requesting "careful consideration to expanding the study to include an examination of a 'Vint Hill Connector' alignment." A letter was also provided to the study team from Raymond Graham, Chairman of the Board of Supervisors of Fauquier County, to Congressman Wolf requesting "assistance in helping Fauquier County obtain TEA-21 funding to assist with the construction of the 'Vint Hill Connector', which will connect the area around the former Vint Hill Farms Station Military Base with Interstate 66 at Haymarket."

Sean Connaughton, the Chairman of the Prince William County Board of Supervisors, sent a letter on behalf of the Board requesting that the study be expanded to examine a connector bypass-type of thoroughfare that would provide "a direct connection between Route 29 in the New Baltimore area of Fauquier County and I-66 somewhere to the west of Route 15."

October 1, 2002

Prince William Board of County Supervisors Meeting

DIR 02-186 Wilbourn (R) Gainesville: Bypass Update with Fauquier County

Supervisor Wilbourn requested staff work with Fauquier County representatives to institute discussions regarding a proposed Gainesville Bypass.

News Clips
Skeptical, Downey takes hard line on bypass plan
Don DelRosso, Fauquier Times Democrat; November 14 2006
It will take a lot of convincing to win his support for a Buckland/Gainesville bypass. Fauquier Supervisor Bill Downey ( Scott District ) believes a four-lane highway from U.S. 29 at New Baltimore to Interstate 66 could expose the largely rural area to massive growth pressure. "The mistakes of what's happening in Gainesville , we are at risk of repeating again with any bypass," Downey said in an interview. Rather than ease area traffic, a bypass could very well exacerbate the problem by creating another development corridor, he warned. Last week, Prince William County released the " Buckland/Gainesville Bypass Study Report ."

Gainesville-Buckland Bypass Routes Studied; I-66 Shortcut May Be Controversial Nick Miroff, Washington ; November 26, 2006 A new study has outlined three possible routes for a Gainesville-Buckland bypass designed to reduce traffic on Route 29 and soothe some of the region's most road-weary commuters with a high-speed shortcut to Interstate 66.Whichever course the road eventually takes, though, it's likely to carve a costly and contentious path through the western edge of Prince William County.

Transportation, battlefield dominate service district hearing Don Del Rosso, Fauquier Times Democrat; November 14 2006 … The save-the-battlefield people believe widening U.S. 29 would do little, if anything, to relieve short- or long-term congestion along the traffic-clogged roadway. They believe a Buckland/Gainesville bypass linking U.S. 29 at New Baltimore to Interstate 66 would move regional and local traffic more efficiently than six-laning U.S. 29 to Gainesville . More importantly, they argue a bypass would accomplish that without ravaging the battlefield. Downey and others worry that a Buckland/Gainesville bypass would create just another development corridor, pushing development further west of Gainesville .

[Fauquier] Board holds Nov. 9 hearing on New Baltimore land-use plan Don Del Rosso, Fauquier Times Democrat, Novemer 8, 2006 Blake believes the New Baltimore Service District plan should recognize transportation alternatives and the historic importance of Buckland Farm. Besides studying a bypass, Fauquier officials also must consider effects of PrinceWilliam roads planned, proposed or under construction in the area that would ease U.S. 29 congestion, he said. Planning Commissioner Holder Trumbo ( Scott District ) said he appreciates such suggestions. But the district plan zeros in on district rather than regional transportation issues. "It's not the New Baltimore Service District plan's position that we would fix the Prince William (transportation) problems in Gainesville ," he said. "It's not the New Baltimore Service District Plan's job to say what should happen in Prince William."

There's no money anyway
Letters, Peter Schwartz, Fauquier Times Democrat; October 17 2006
The Democrat's editorial of last week plugging the Buckland Bypass is wrong-headed, although some of your observations are correct. It is true that Prince William County has failed egregiously to control curb cuts on U.S. 29 from the Fauquier County line to Gainesville . Having ruined U.S. 29 as a through-corridor, they then walked away from the opportunity to maintain U.S. 15 running north to Haymarket as a limited access bypass corridor. I believe that there is no realistic chance whatsoever that Prince William will resist the potential development pressure in order to control access along a new "Buckland Bypass" corridor, even if Fauquier County is able to do so. The sprawl - and the traffic it generates - will just spread further west.

[Prince William] Historical Commission defers vote on controversial resolution
Tara Slate Donaldson, Gainesville Times; June 11 2006
Without discussion or dissent, the Prince William Historical Commission decided Tuesday to put off a vote on a resolution supporting the Buckland Bypass. Buckland residents and members of the Buckland Preservation Society had urged the commissioners to adopt the resolution, which is primarily a recognition of the area's historic and cultural value. However, several clauses in the resolution refer to the bypass, a longstanding but mostly theoretical plan to divert Route 29 traffic around Buckland. While Buckland residents support the proposal, the county's conservation groups oppose it.

Buckland bypass enters next phase of planning Cheryl K. Chumley, Gainesville Times; April 21 2006
So far, a road plan to ease traffic congestion on us. 29 and through Gainesville is just lines on a page, officials at a joint Fauquier-Prince William meeting on Friday said repeatedly. But for Fauquier Supervisor Bill Downey, concerns are still great that designers of the Buckland Bypass proposal will not respect the differences between the two counties' Comprehensive Plans and goals for growth.

You Can Sit on Your Parks, or Save Them
New York Times; September 15, 2005

Fighting Sprawl, Virginia Town Seeks to Save Past
Reuters; June 01, 2005
The Journey to Hallowed Ground
Fauquier Times Democrat; May 31, 2005
Embracing the Past In Tiny Buckland, Va.; Residents Hope Historic Value Deters VDOT
Washington Post; October 10, 2004
Buckland Makes [Cultural Landscape Foundation] Endangered List
Gainesville Times; Oct 1 2004
Group Wants to Preserve Buckland, Supports a Bypass
Potomac News; June 11 2004
Tiny Buckland Wants Respect, Traffic Bypass
Washington Post; February 16 2004