Rural Crescent at Risk! Preserve at Long Branch wants access to public sewer and triple the houses
(formerly MidCounty Parks and Estates)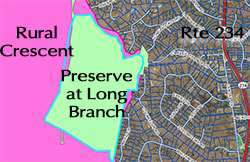 On October 20, 2020, Supervisors are slated to vote on a Comprehensive Plan Amendment and Rezoning application seeking approval for access to public sewer to build 102 new homes in the Rural Crescent, more than triple the density currently allowed.
This development proposal would set a precedent for other land speculators seeking increased density in the rural crescent.
Planning Commission recommendation: Denial
Planning staff recommendation: Denial
Every dollar we spend to develop the Rural Crescent and put more houses out there is a dollar we can't spend to improve schools, parks, trails, transportation, and fire and rescue services on the eastern end, and to help people in those areas who are already in need.
This proposed project seeks approval to build 102 new homes, more than triple density allowed in the rural crescent, and gain access to public sewer. In exchange, the applicant proposes to "gift" Prince William County green open space for use as parkland.
The applicant continues to base the validity of his application on ideas from a 2014 study that Supervisors have never approved.


Putting houses where there are no jobs, schools, shopping, or public transportation creates excessive cross-county traffic and exacerbates already over-crowded schools.


Much of the proposed "open space" proposed by the applicant is unbuildable and/or protected by state and federal regulations. Most of the proffered parkland is more suitable as Home Owner Association common area, not as public parkland.

Surrounding home owners have expressed they are neither interested in joining any associated Home Owner Association nor do they want the public driving through or parking in their neighborhoods to use the proposed public land.


Residents support good planning practices and believe the existing Comprehensive Plan should continue to guide future development. They are opposed to changing the existing, long-standing vision which protects the rural area.


The Rural Crescent and Semi-Rural area are smart growth tools that help the County minimize the negative financial impacts of sprawl development and are critical to protecting our public drinking water supply, the Occoquan Reservoir.


While the green open space, including a proposed boat ramp, would provide a great amenity for people who live in the new community, it offers limited access and little value for residents countywide. The nearby Dove's Landing Park is located across the Occoquan River and does not provide access to the proposed parkland.


The applicant claims the open space would be "permanently protected," but the proposal provides no information on a land trust or the terms of a conservation easement (Prince William County government does not hold conservation easements.)


Applicant incorrectly claims the County has previously allowed increased densities in the rural area without establishing a precedent for land speculators. However, except for Avendale, the applicant's examples resulted in a net gain to Rural Crescent acreage. Avendale, was removed from the Rural Crescent due to the realignment of Vint Hill Road, where Supervisors unanimously voted to reaffirm their commitment to uphold the Rural Crescent.


The proposed connection of grinder pumps from new homes to public sewer will be a maintenance nightmare requiring a future public taxpayer subsidy to correct. Approval by the Service Authority would FOLLOW any approval by the BOCS, leaving the public out of any public scrutiny or decisions to correct installation or load capacity deficiencies.


Countless government-led roundtable and community-led forums demonstrate that the majority of residents support the growth boundary that allows the County to invest in the development area.

We need spend our limited financial resources on upgrading our existing aging development areas, close to work, OR on new infrastructure to service urban sprawl.


If approved, this project would memorialize the very unpopular Conservation Residential (CR) staff proposal to allow higher density housing and sewer in the Rural Crescent. The concept for the CR classification was derived from this application. Setting a CR precedent means more houses in the Rural Crescent, which adds pressure for higher housing density in the SRR buffer area.