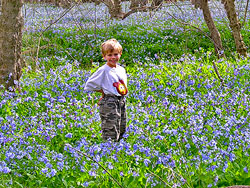 Sunday, April 11 2010 -- Nearly 700 people enjoyed nature walks, examined frogs and turtles, and explored skins and skeletons of local mammals at Merrimac Farm Wildlife Management Area at the third annual Bluebell Festival. The Bluebells were at their best, the sun was shining and it was a great day to be outdoors.
This year several low boardwalks kept feet and mud apart, protecting floodplain areas with standing water. Many thanks to hardworking volunteers Bill Olson, Kevin Parker, Martin Jeter, Greg Bagford, Ed Hudgins, Steve Kelsch and Tim Hall.
Supporting organizations provided tour guides and nature activities for children of all ages. Many thanks to Patricia Wood with the U.S. Fish & Wildlife Service, Barbara Reese with BR Associates, Helen Walter and Charles Smith with the Prince William Wildflower Society, Marian Hamamo with the Prince William Art Society, nature photographer Julia Flanagan and Ernie Sears, official photographer for the event.
This was the third Bluebell Festival at Merrimac Farm, which began in 2008 to celebrate the preservation of this important site. Merrimac Farm was permanently conserved and opened to public use through a partnership between Marine Corps Base Quantico, the Virginia Dept. of Game and Inland Fisheries, the Prince William Conservation Alliance and the McDowell family, who together sponsor the yearly Bluebell Festival at Merrimac Farm Wildlife Management Area.
Floodplain wetlands, upland fields and hardwood forests come together at Merrimac Farm, creating a diverse habitat mosaic that supports a variety of wildlife. It's a great place to explore nature all year round. Please check our Calendar here for information about more nature activities at Merrimac Farm throughout the year.