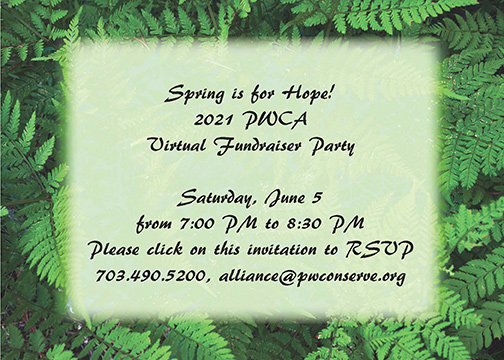 Please join us for a celebration of special places and special people!
Get your tickets here (free or donation) to cap the Spring is for Hope season, whether $5 or $500 your donation is appreciated.
Spring is for Hope offers many ways to support us, have a good time, discover nature and explore history close to home. Bid on some fantastic items during our online auction here running from noon May 13 to 8 PM June 4.
Or participate in our photo contest here. Submissions are due May 20th, and you can vote for your favorite photo starting May 27th.
PWCA has had many successes over the years, from the acquisition of Merrimac Farm WMA and restoring wildlife habitat at Silver Lake to establishing Prince William's first Virginia Scenic Byways. It's been a team effort; you are our heroes! We look forward to seeing you on June 5.
June 5 Program Agenda - Places Worth Protecting
Classical Piano with Eli Kunkel

Welcoming remarks with Kim Hosen

Dr. Angela Knight, International Coloratura Soprano, will perform excerpts from Queen of the People's Heart, a musical about Princess Diana

Nature and Art with Ashley Studholmewill share how art has enhanced the visitor experience at Merrimac Farm WMA

Photo contest winners with Jean Beard, who will announce photo contest winners, who will share information about their winning entries.

Frank Washington, Coalition to Save Thoroughfare, will talk about the value of honoring our historic resources.

Joyce Hudson, Coalition to Save Carver Road, will share information about The Settlement, an historic freed black community

Martin Jeter will talk about the importance of natural area parkland and progress opening Davis Ford Road Park

Ruth Anderson will tell the story of how the Harbor Drive Wellness Park came to be and why it matters.

Mike May will talk about how partnerships led to the Vantage Point Parkland on Tanyard Hill Road.