Roads/Transportation
The Prince William Conservation Alliance supports close alignment of land use planning and transportation planning. In Prince William County, approved development applications have allowed approved more housing units in Brentsville/Gainesville than the transportation system can support.

The solutions are complex - and expensive. Proposals to expand existing roads or create new commuter routes from recently-approved subdivisions to job centers in Fairfax, Arlington, and DC
could cost county taxpayers $1.6 billion to support local bonds
over the next 15 years.

No individual road proposal will actually speed the current commute from western Prince William. All proposals are designed just to maintain the current level of service - frustratingly slow as it is. Current delays will get worse as new houses are built, and massive investment in new transportation projects will just keep things from getting worse... Massive development of western Prince William will create massive profits for some companies.

In the land use planning textbooks, decisions to increase housing density should be synchronized with decisions to increase transportation capacity - and the new development should pay the cost for the new roads, transit, etc. Otherwise, traffic jams will get worse or existing residents of Prince William County will have to subsidize the costs of new development.

The political realities of "growth" make it very difficult to align county land use plans with state/Federal transportation plans... but if we don't do it, then the commute and the local taxes could both get worse.

How to Measure Traffic Impacts for Development Proposals
Prince William County evaluates the quality of its roads by Level of service (LOS) standards. These are based on volume to capacity ratio and delay. The standards are set by the Transportation Research Board's Highway Capacity Manual. Prince William County plans roads to operate at LOS D -- gridlock with any accident, 40 second delays -- or better.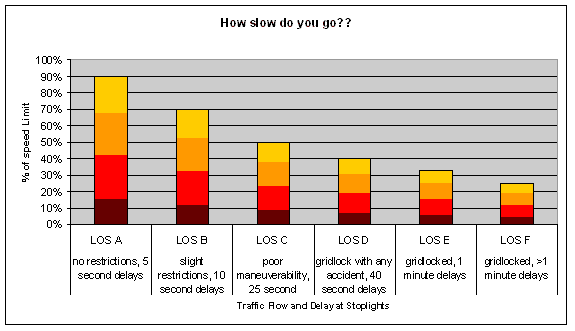 Did you know . . .
Between 1980 and 2000, highway travel in the U.S. increased 80 percent and the number of drivers increased by 30 percent, while highway mileage increased only 2 percent. At the same time, 84 percent of the nation's $7 trillion in freight traffic travels on highways, with truck travel expected to grow by more than 3 percent annually over the next 20 years.

Federal Highway Administration, 2000
More people are driving more cars more miles on more trips. In 1970, Americans traveled 1 trillion miles in motor vehicles. The number of miles driven by Americans has risen 150% since 1970. Surface Transportation Policy Project, 2002
In 2000, Americans drove 128 million cars, traveling 2.3 trillion miles. They consumed 8.2 million barrels of fuel per day and emitted 302 million tons of carbon. Worldwatch Institute, 2000
The US Department of Transportation reports that, more than 50 percent of the total increase in driving in the US from 1983 to 1990 was due to factors related directly to sprawl - more and longer trips taken by the same people. Increases in population over that period account for only 13 percent of the total increase in driving. John Horsley, Bureau of Transportation Statistics
Motor vehicles are the largest source of urban air pollution, generating more than two-thirds of the carbon monoxide in the atmosphere, a third of the nitrogen oxides (which react to form smog), and a quarter of the hydrocarbons (which also form smog). Surface Transportation Policy Project, 2000
Vehicles might use less gas, but the gas has become more polluting. As lead was phased out, refineries have made up for the loss in octane with changes in the gasoline formula that make auto fuel more likely to release smog-forming VOCs into the air. Environmental Protection Agency, Plain English Guide to the Clean Air Act
Prince William Links
Virginia Links
Regional Information
Air Pollution
More Information