Prince William County 2006 Road Construction Bonds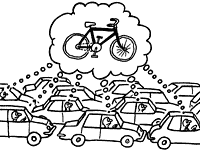 Prince William County voters approved a $300,000,000 road construction bond on November 7 2006. The purpose of this bond is to fund the costs of acquisition, designing, constructing, and improving Route 1, Route 28, Minnieville Road, Heathcote Boulevard, Prince William Parkway, University Boulevard, Rollins Ford Road, and Old Carolina Road.Despite widespread agreement that mass transit is the most effective tool to manage traffic congestion problems, a review of both the 2006 and 2010 bond referenda (called "Road Bond") shows that NO transit projects are identified, only candidate road projects.

Moreover, the list of projects in Prince William County's 2007-12 Capital Improvement Program shows that only approximately 1% of the CIP funds are going to transit capital. The three transit projects identified in the CIP are three VRE stations that appear to use state and federal funds (and some proffers), not county funds.

It is encouraging Prince William County appears to be providing significantly more funding for PRTC and VRE operations than in previous years, possibly to offset state-level funding cuts. We hope this signals a change in priorities.

However, real attention also needs to be paid to changing land use patterns and the design of communities to reduce traffic while increasing mode shares for transit, walking, bicycling and carpooling. These changes in land use should be matched with increased investment in higher capacity transit.
---
PWC Road Construction Bonds in the News:

Voters decide county road bonds
Lillian Kafka, Potomac News; October 12 2006
On Nov. 7, one of three local ballot questions asks whether or not the county should sell $300 million in bonds to make huge road improvements. Should the county fund local road widening? Voters decide.

It Takes One Road to Build Another; Collateral Moves Financing Forward
Nikita Stewart, Washington Post; November 6 2005
On its way to being the first jurisdiction in the state to finance a road project by selling bonds through a quasi-government agency, Prince William County also has become the first jurisdiction to put up a road as collateral. ... The road the county put up is Prince William Parkway from Hoadly Road to Liberia Avenue, said Liz Bahrns, a spokeswoman for the county.

Board to discuss road funding
Keith Walker, Potomac News; October 19 2005
The Prince William Board of County Supervisors voted Tuesday to hold public hearings Nov. 1 to discuss alternate financing of 1998 road bond projects, including the Linton Hall Road and the Spriggs Road projects. During the 2005 General Assembly session, state law makers made it legal for localities to finance road projects with money from the Virginia Resource Authority.

Board postpones road referendum
Chadd Umble, Potomac News Friday, May 13 2005
In a busy election year, Prince William County voters will have one less thing to worry about this November: whether they want another road bond. Citing increased costs and hoping that with another year they could show more progress on current road projects, county supervisors decided to put a $170 million road bond issue on hold until 2006, instead of moving it up to 2005.

Transportation plan to cost $1.6 billion
Lillian Kafka, Potomac News; January 12 2005
Prince William's county executive outlined a 14-year, $1.6 billion transportation plan Tuesday as part of the county's 2006 capital improvement program. Craig Gerhart, county executive, presented the plan, which could kick off with a $170 million bond referendum in 2006.

County road bond proposal under construction
Lillian Kafka, Potomac News; October 26 2004
The proposed list is still very "premature" and includes measures to relieve traffic from U.S. 55 and traffic in the Linton Hall Road corridor.
County approves $87 million road bond referendum
Dusty Smith, Gainesville Times; August 8 2002
... The proposed $86.7 million bond would pay for a list of seven projects, including the extension of Sudley Manor Road to Linton Hall Road and improvements to Route 15 in the western part of the county.

Pr. William Bypasses VDOT, Builds Parkway
Michael D. Shear, Washington Post; October 15 1998
In 1988, voters approved $51 million for the parkway, which was planned at that time to be a widening of Davis Ford Road. In 1990, after a citizens group persuaded county officials to instead build a new road through the heavily wooded center of the county, voters approved an additional $43 million. About $20 million in federal funds also were used, primarily for construction of a major interchange at Interstate 95 and the parkway.