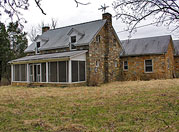 New Work Day Scheduled for the Stone House:
When: Saturday, August 2 from 9:00 a.m. to Noon
Where: Stone House, located at the very end of Deepwood Lane, directions
Thanks to Prince William volunteers, Merrimac Farm was opened to the public at lightning fast speed... and there is lots to do to make it more user friendly.
The old, flimsy back porch is down and needs to be loaded into a dump truck for delivery to the dump. A trail leading to the wetlands was recently mowed. We'll be there tomorrow morning at 8:00 a.m. making the trail route and loading lumber into the truck. Please feel free to join us if you have the day off and are looking for a good deed to start off your weekend!
We are still trying to open the Stone House. Next steps include minor household repairs, including changing out all the faucets, patching walls, replacing baseboards and painting. We will be starting these repairs on August 2 and hope you can join us!
Questions? Contact Kim Hosen at 703.499.4954 or alliance@pwconserve.org.