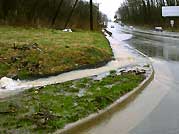 Saving Our Streams
When: Thursday, November 6 at 7:30 pm
Where: Bull Run Unitarian Church, 9350 Main Street, Manassas

Tom Dombrowski - PWC Public Works watershed restoration specialist - will talk about some innovative projects & successes rehabilitating stream corridors in Prince William County. Presentation followed by a community discussion. Bring your questions and share your views! Read more...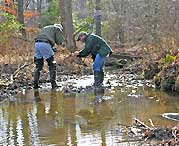 Fairfax Green Breakfast - Protecting Headwater Streams
WHEN: Saturday, November 8 from 8:30 to 10:00 a.m.
WHERE: Old Country Buffet, Fair City Mall at Route 236 (Main St.) and Pickett Road in Fairfax City
COST: About $9 for breakfast, pay cashier as you arrive.
Speaker: Judy Cronauer, Fairfax County Code Analysis Division of Land Development Services
Learn more about Fairfax County's initiative - developed through County staff, the Planning Commission Environment Committee and the Environmental Quality Advisory Council - to develop criteria for a regulatory approach to extending riparian buffers upstream of Resource Protection Areas (RPAs).
This project has included two meetings to engage the public in discussions of concerns and considerations that should be taken into account, such as how far upstream, buffer width, type of vegetation and allowed uses. A Work Group is using this information to develop recommendations.