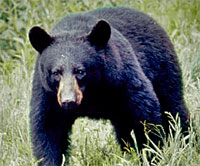 Black Bears in Northern Virginia
WHEN: Thursday, December 4 from 7:30 to 9:00 p.m.
WHERE: Bull Run Unitarian Universalist Church, 9350 Main Street, Manassas
Wow, black bears in Northern Virginia? Although most black bears live in the mountains or the Dismal Swamp black bears have been spotted in most Northern Virginia localities with increasing frequency. Please join us on the First Thursday in December when Virginia Dept. of Game & Inland Fisheries biologist John Rohm will share information about black bears and their Northern Virginia habitats! Read more...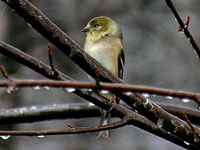 Volunteer - The Christmas Bird Count (CBC)
For more than 100 years, citizen scientists throughout the United States have volunteered their time to count birds for the Audubon Christmas Bird Count. Their efforts provide important information about wintering bird populations, distribution, and changes over time.
You don't have to be an expert birder to participate in the count. More eyes help spot more birds and the Christmas Bird Count is an exciting opportunity for beginning birders to connect with others and learn more about both birds and important habitats.

NOKESVILLE CBC

WHEN: December 14 beginning at 7:00 a.m.

CONTACT: Registration required. Contact the Prince William Conservation Alliance at alliance@pwconserve.org or 703.499.4954.

The Nokesville survey area features open fields, farms, forested wetlands and large lot developments. It includes portions of Fauquier County and Quantico Marine Corps Base as well as Merrimac Farm Wildlife Management Area, Cedar Run Wetland Bank, Foggy Bottom Wetland Bank, Manassas Airport, Dove's Landing, the Prince William County Landfill and portions of Prince William Forest Park.

Last years count recorded 82 species, including the Red-Headed Woodpecker, Bald Eagle, Northern Harrier, Wild Turkey, American Woodcock, Screech Owl, Barn Owl and more. You can view complete information from last years count here.

CENTRAL LOUDOUN CBC
WHEN: Sunday, December 28.

CONTACT: Registration required. Sign Up Online or contact Joe Coleman at 540-554-2542 or jcoleman@loudounwildlife.org.

Join the Loudoun Wildlife Conservancy as they participate in the National Audubon Society's Annual Christmas Bird Count. Started in 1899, these surveys are held all over the country, with the results used to better understand bird populations and dynamics.

The Loudoun Wildlife Conservancy's count-circle has a 15-mile diameter and covers 177 square miles of Loudoun's countryside: north to Waterford, south to Aldie, east to Ashburn, and west to Purcellville. This part of Loudoun County includes areas that not only have beautiful scenery but also are full of birds. Everyone is welcome, both beginners and expert birders (amateurs are teamed with experienced birders).

FORT BELVOIR CBC

WHEN: Sunday, January 4.

CONTACT: Registration required. Contact Kurt Gaskill at KurtCapt87@verizon.net.

The Fort Belvoir count-circle covers considerable Potomac River shoreline and includes Fort Belvoir, Huntley Meadows, Belmont Bay, Occoquan Bay, Mason Neck and more.

Last years count recorded 117 species, including Common Loon, American Woodcock, King Rail, Long-eared Owl and more. This CBC circle has been counted for more than 60 years and is still going strong.
PWC Comp Plan Update Public Hearing
WHEN: Wednesday, December 3 at 7:00 p.m.
WHERE: McCoart Government Center, Board Chambers
The PWC Planning Commission will hold a public hearing and vote on the current proposal for updates to the Land Use and Transportation chapters of the County's Comprehensie Plan.
The Comprehensive Plan is used as a guideline for evaluating and negotiating development applications. It includes a map that shows planned land uses on a parcel-to-parcel basis. The County's Capital Improvements Projects budget is intended to implement the Comprehensive Plan by funding projects in areas the Comprehensive Plan is targeting for development.
The current Land Use draft proposes the addition of 25 "centers" that could add significant residential densities to a plan that already accommodates projected population increases to 2025. Density increases are also proposed for the areas designated for semi-rural residential densities, generally located between Prince William Parkway and the Occoquan Reservoir.
The Transportation draft generally downplays public transportation incentives and continues the County's focus on road construction projects as the antidote to traffic congestion problems. Other public infrastructure needs, including parkland and open space, receive minimal attention.
You can read more about the Comprehensive Plan udate here and review the entire drafts posted on the County's website here . Citizens, businesses, organizations and developers are invited to share their views at the Planning Commission Public Hearing this Wednesday at 7:00 p.m. Speakers do not need to sign up in advance. Individuals are allowed three minutes to comment, organizations receive five minutes.
"All good planning begins with public involvement." — Ian Jackson