As 2008 comes to a close, it's time for a look back at a year of great successes as well as some disappointing developments in the conservation and stewardship of our natural resources, parkland and green open spaces.
We share our successes with you – it takes all of us working together to preserve and restore our green open spaces, rivers and streams, forests and wetlands. We've had a very busy 2008 and we are looking forward to exciting opportunities and new successes in 2009!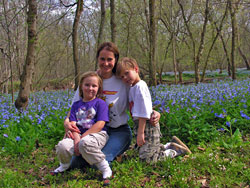 Merrimac Farm
The year started off with the best of news when Merrimac Farm was permanently conserved on January 16 2008 through a partnership between Marine Corps Base Quantico, the Virginia Dept. of Game and Inland Fisheries, and the Prince William Conservation Alliance.
Less than three months later, the Merrimac Farm Wildlife Management Area was opened for public passive recreation uses. On April 10 the conservation partners hosted a grand opening celebration that attracted nearly 200 people from D.C. to Richmond. A highlight of the celebration was a series of guided tours along Cedar Run, where Virginia Bluebells carpet the floodplain in a spectacular display of color for nearly one mile.
Since then we have established a Bluebird Trail, provided outdoor field trips for Prince William County public school students, wildlife and wildflower tours for families and developed preliminary species lists for plants, birds and butterflies at Merrimac Farm. And thanks to community support, we are most excited that our renovation of the Stone House is nearly complete and the building is now ready to welcome visitors for programs and other activities! Read more…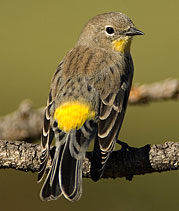 Nokesville Christmas Bird Count
This annual citizen science event is part of the national survey led by the National Audubon Society. Now in its 109th year, the Christmas Bird Count captures a snapshot of bird populations in early winter and helps focus attention on the plight of wildlife nationwide.
After a 12 year gap, the Nokesville survey area is up and running once more under the leadership of the Prince William Conservation Alliance and the Virginia Dept. of Game and Inland Fisheries.
We held the 2008-09 count on December 14, when volunteers recorded 87 species and more than 10,000 individual birds. Highlights of the count included screech owls at Prince William Forest Park (PWFP) with barn owls, barred owls and great horned owls elsewhere in the count area. There was a woodcock on Parkgate Drive, as well as a cackling goose and meadowlarks. We saw ravens at both the landfill and Victory Lake, rusty blackbirds at the Cedar Run Wetland Bank, and pine siskins at PWFP and the Cedar Run Wetland Bank. The Route 234 wetland mitigation area added a merlin and tree sparrow to the list. Read more…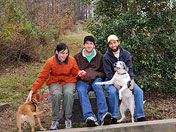 Parkland & Open Space Policies
In February, after more than two years of discussion, Prince William County adopted new standards for parkland, trails and open space. Despite significant community involvement demonstrating strong support for high standards, the Supervisors approved the Planning staff's original recommendation – a goal of 15 county-controlled parkland acres per 1,000 residents (established through the Level of Service Standard included in Table 1 of the Comprehensive Plan Parks, Trails and Open Space Chapter).
This new goal represents an increase of 1.2 county-controlled parkland acres per 1,000 residents over the previous County goal… a far cry from the 25 county-controlled public parkland acres per 1,000 residents recommended by both citizens and the County's Planning Commission.
How has the County progressed since adopting the new parkland standards? County finances may be stretched thin, but land values are low and other opportunities to open County-owned properties to public parkland uses at virtually no cost to taxpayers hit a new high in 2008. As the one-year anniversary of the Parks, Trails and Open Space Comprehensive Plan chapter approval approaches, we can use the standards established in February 2008 to measure the Board's true commitment to parks, open space, and trails. Read more…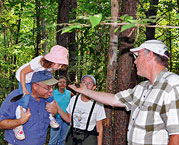 Dove's Landing – A Regional Conservation Priority
For more than two years the Prince William Conservation Alliance has promoted opening the County-owned Dove's Landing site to public passive recreation uses. Our activities included leading community tours at Dove's Landing, providing information electronically through our web page and email distribution list, hosting community meetings, and meeting with public officials.
In October, the Washington Smart Growth Alliance (WSGA) announced that Dove's Landing is a top environmental target of the Regional Conservation Priorities, recognizing the local values and regional significance found at this 225-acre property along the Occoquan River.
According to Sam Black, president of the WSGA, "Dove's Landing was selected because it has been publicly owned for more than a decade but is not fully protected or available for general use." Dove's Landing is one of six priorities for 2008 identified by the Alliance.
Dove's Landing offers Prince William a unique opportunity to protect streams and reservoirs, increase public parkland, permanently protect green open space and respond to community wishes at virtually no cost to taxpayers. Read more…
Silver Lake – Opportunities Lost
In 2006 Toll Brothers donated the 230-acre Silver Lake property (as a "proffer" for County approval of 420 additional houses in Dominion Valley) to Prince William citizens, through the Board of Supervisors, to provide much needed land for public recreation and open space. Since that time, the County has kept Silver Lake closed while debating who should manage it.
The Prince William County Park Authority provided a series of proposals for the property, which evolved from a focus on revenue-generating activities to passive recreation opportunities and required an additional $225,000 in annual County funding support.
The Bull Run Mountain Conservancy offered to add an adjacent 270-acre property to the total available parkland at Silver Lake, manage the site for public passive recreation uses at no charge to taxpayers and committed a $500,000 matching grant to open the site quickly.
In October, after more than two years with no decision, the Bull Run Mountain Conservancy withdrew their offer. Now, with tough financial times upon us and the Prince William County Park Authority left as the only option, the County Executive's office is recommending that Silver Lake remain closed to public parkland uses. Read more…
Merrimac Farm Master Naturalists
The Merrimac Farm Master Naturalist program, spearheaded by PWCA, offered its first session in 2008. This successful program provided classroom and field training to nearly 20 citizens, helping generate increased support for stewardship activities countywide. In addition, this effort provided local organizations and agencies with an important opportunity to partner with each other as well as sponsoring state agencies. You can read more about this program on our webpage, where information about future sessions will be posted in the coming months. Read more...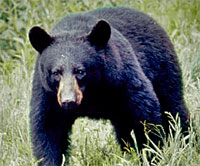 First Thursday Nature Tales
Our monthly programs – free of charge and open to the public – offer everyone the opportunity to find out more about current events, important natural areas and the cool critters that live in Northern Virginia. From black bears in Northern Virginia to the state of Prince William waterways, these lively and informative programs provide information on important issues and opportunities to meet other nature explorers throughout the county ! Read more…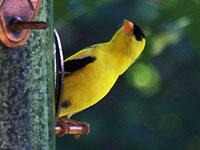 Nearby Nature – Who's Living in Your Backyard?
You don't have to visit a rain forest or huge wilderness area to see cool critters. Some pretty amazing animals can be found right here in Northern Virginia. You can find nearby nature everywhere… in your garden, along the stream corridor behind your house, watching your kids play ball and when visiting local parkland.
To help highlight the diversity of wildlife living in Northern Virginia habitats – and to help narrow your search to identify cool critters close to home – we've created an online resource for Northern Virginia wildlife. Or, more accurately, we're creating an online resource. There's so much out there, this is a project with no end in sight! Read more…
New for 2009 - Mark Your Calendar!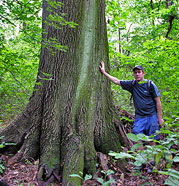 We're looking forward to a busy 2009 with exciting opportunities to build on past successes. Our First Thursday Nature Tales program is off to a great start on February 5 when Alonso Abugattas will share information about frogs, toads and other amphibians common to Northern Virginia habitats. We'll also have many live species on hand for you to meet up close and personal!
Now that renovations at the Stone House at Merrimac Farm are complete we are developing nature exhibits and family programs. By early spring we hope to open the Stone House on weekends so visitors can learn more about Merrimac Farm wildlife and wildflowers or participate in hands-on activities to discover more about nature in Northern Virginia.
You won't want to miss the spectacular display of Virginia Bluebells that carpet the Cedar Run floodplain at Merrimac Farm! We hope you join us on April 11 for the annual Bluebell Festival at Merrimac Farm , a fun day of nature activities, including guided wildlife and wildflower tours and more.
We plan to increase citizen science and education opportunities with habitat and wildlife mapping programs at Merrimac Farm, expanding support for the Christmas Bird Count , initiating the Nokesville July 4th Butterfly Count and supporting a new session of the Merrimac Farm Master Naturalist program.
Prince William is a beautiful area with unique natural resources. Preserving a high quality network of green open spaces is critical to maintaining healthy, sustainable communities countywide. We will continue to actively pursue and follow through on opportunities to conserve important natural areas , add to the County's inventory of public parkland and restore our streams where opportunities arise.
It takes all of us working together to preserve and restore our green open spaces, rivers and streams, forests and wetlands. You can't get involved if you do not know what's happening! During 2009 our webpage, email newsletters, blog and community programs will continue to provide everyone with news and views about current events and opportunities. We are excited about the future and look forward to seeing you soon!